3
minute read
How's it work then?
You captain/coach either a county side, an international side or both. You train your players, select your team, make your bowling changes, tell them where to bowl, position your field, gauge how much to attack with the bat, decide when to take the new ball – pretty much everything.
You can even call Ian Bell a dick for dropping a sitter, although he won't hear you, because he's only a pixellated representation of Ian Bell and not the man himself. He will miss straight ones though.
Any good?
Yup. The International Cricket Captain games have been refined over time and they're pretty decent now. We'd prefer there to be more long-term planning and less on-field decision-making, but that's personal preference.
The fact is it offers a lot. You can train youth players in anticipation of using them six seasons down the line and you can then spend ten minutes moving your fielders around for the fifth over of a Twenty20 game against Derbyshire.
Graphics
The graphics are okay now and at least the highlights don't take ages, like they did in one of the earlier versions. You see a bit too much of spinners' run-ups in each highlight, but it's all fairly snappy and the match graphics feature Hawkeye and some graphs. Everyone loves graphs.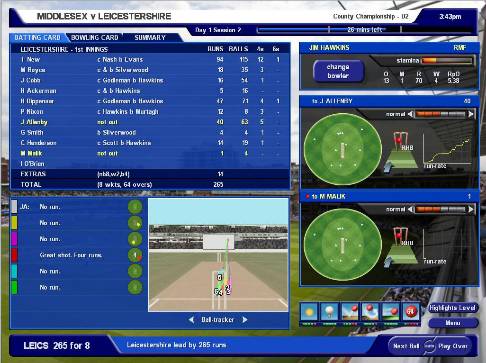 Sound
Jonathan Agnew commentates. He didn't get annoying in the time we played, but you can switch him off if you're playing a longer stint.
Training in International Cricket Captain 2009
Bizarrely, considering that cricket's such a statistical game, International Cricket Captain doesn't go in for statistics in the same way that football management games do. We feel this is a mistake, as cricket fans are generally overfond of stats. Why not exploit this identifiable personality defect?
Instead, it's all a bit TOO real. Each player has a host of attributes defining how they play, but these attributes are invisible. You have to judge whether your batsmen are any good on the offside by ACTUALLY WATCHING THEM. This is a bit laborious for our tastes. It's very admirable making the game so realistic, but an option to see the players' attributes in number form would be quicker for those of us with jobs and maybe even the odd friend.
On the plus side, you are notified when a player improves in some facet of the game now, so you're not completely in the dark about whether your training sessions are having any impact or not.
'Ah, Paul Horton's one better at defensive shots now,' you exclaim – totally unaware of how significant that one is. Is it one out of ten? One out of a hundred? Who knows? All that matters is that Paul Horton's one better.
Verdict
If you've played a previous version to death (of your own social life), you're unlikely to find enough here to draw you back to overly-obsessed solitary squalor. If you've never played, you should definitely give it a go. Training youth players for the Ashes bid in six years time is obscenely addictive.
Buy it from Amazon
(it was only £9.50 last time we checked) or there's a free download of International Cricket Captain 2009 available where you get a two day trial.