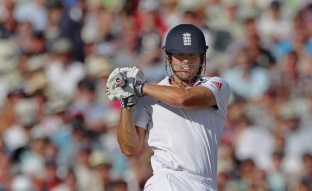 Last week, writing about Alastair Cook, George Dobell briefly made the case that he maybe isn't the easiest guy to open the batting with.
The gist of the argument is that Cook's quite a passive batsman and "novice openers see the scoreboard going nowhere and bowlers allowed to settle into spells."
That's quite persuasive, but it strikes us that it cuts both ways. Maybe Alastair Cook doesn't especially benefit from trying to do his thing alongside a load of nervous, uncertain pseudo-debutants. Maybe Alastair Cook doesn't like the scoreboard going nowhere and bowlers allowed to settle into spells.
By this point we probably have to accept that Alastair Cook isn't going to metamorphosise into Virender Sehwag, so there is no obvious solution to this. Not unless some new combative opener sashays into the side, brimming with a confidence that simply cannot be quashed.
Were that to happen, it would be great, because we do feel that were England to somehow come up with a half decent opening combination, a lot of the subsequent collapses would be nipped in the bud. Poor starts are a problem exacerbated by the nature of England's middle-order, which almost exclusively comprises players you'd tend to think of as stroke-makers.
Yes, you could add someone more lumpen to the middle order but that seems to us to be akin to the placing of a bucket to address leaky pipework. Surely it's far better to address the root problem and have, um, a steady flow of runs directly into the sink…
Essentially, good opening partnerships would set the scene for a bunch of batsmen who greatly benefit from having scenes set for them.
The statistical backdrop to this
Cook and Keaton Jennings put on 54 in the first innings at Nottingham. This was the most sizeable opening partnership since Cook and Mark Stoneman put on 58 against the West Indies almost exactly a year ago.
We have to go back another full year for a start better than that one – 80 from Cook and Jennings against South Africa. The last 100-run opening partnership came in December 2016 against India (Cook and Jennings again).
On the other hand…
They collapsed in most of those innings too, so maybe England are just out-and-out terrible at batting.