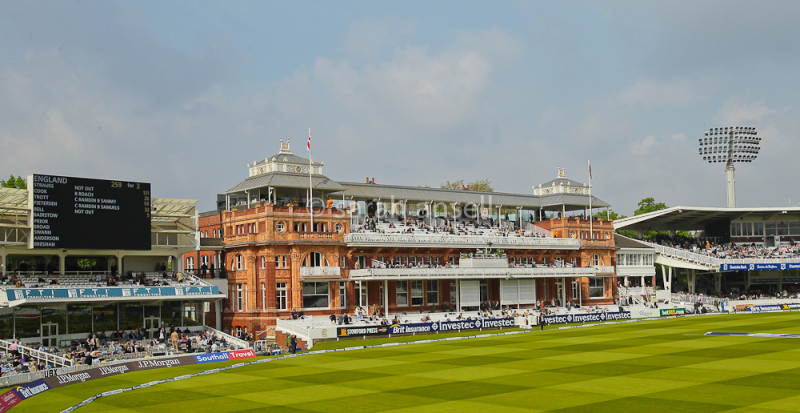 We weren't going to do this, but when we started writing something else we sort of felt obliged to 'fess up that we'd actually been at the ground yesterday and by that point a match report seemed unavoidable.
New rule
We always include a brief italicised outline of what we want from match reports submitted to this site (send them to king@kingcricket.co.uk), but one thing we increasingly feel the need to mention is that you don't actually have to be Ged Ladd to contribute one. Much as we enjoy the man's offerings, it would be good to break the Ged hegemony because variety and fenugreek are the spices of life.
Ged doesn't even have to be there.
Although he was on this occasion.
Ged
We know Ged through this website. A couple of years ago, we met Ged for a pint and we now know him in that sense. But we don't know Ged. For example, until yesterday, we didn't know that Ged was the kind of person who could tell you in what year you'd met him for a pint and Ged didn't know that we were the kind of person for whom past, present and future are just one murky impenetrable dream state, meaning we rarely know if things happened yesterday, five years ago or not yet.
So this was not one of those we-always-meet-up-for-the-cricket things. It was a very kind invite from Ged which was completely unexpected. We were particularly struck by it because we would never even dream of inviting someone to something unless we've known that person for at least 20 years (a threshold which also increases by the year).
Be prepared
Ged told us he would take care of food and kindly reminded us that Lord's Cricket Ground's greatest attribute is that you're allowed to take some booze in.
Going by the guidelines, a bottle of wine seemed the most sensible thing to bring. However, we have never drunk wine at a cricket match and what little we know of Ged also made us suspect that a bottle of SPANISH RED WINE in upper-case letters probably wouldn't be to his normal standards, so we instead plumped for the two beers option.
At the same time, we didn't want to be the northerner who turns up with two cans of Skol, so we opted for two bottles of Belgian beer as this seemed nicely ambiguous.
Real world skills
What we didn't bring was a bottle opener. Fortunately, Ged's front row seats provided us with a perfectly adequate concrete step in front of us and we were able to put this to use for the old 'position bottle top on corner and hammer with side of hand' opening technique.
We were somewhat taken aback when not just Ged, but also his two companions Charley "The Gent" Malloy (slight suspicion of a made-up name) and Big Al Delarge (slight suspicion of a made-up name) were astounded by this hitherto unseen method. When we employed it a second time later on in the day, people in neighbouring seats also looked on in awe. One guy, wearing a blazer, said: "That's pretty impressive," and really seemed to mean it.
We felt a little like we'd just cracked open a can of Skol, but mostly we felt proud to have helped spread a vital life skill which we had always taken for granted.
The Home of Cricket
While there certainly were a few beer drinkers in our stand, it wasn't 98 per cent of the crowd as it is at the cricket grounds we normally attend. The most popular beverage was instead Champagne and the day was punctuated by popping sounds.
Surveying the patch of grass beyond the boundary, we put it to Ged that a more appropriate nickname for Lord's would be The Home of Corks. He seemed to find this amusing. Acutely aware that we are nowhere near as witty in real life as people sometimes expect us to be, we made a note and repeated the joke hourly.
The Home of Real Tennis
At the end of the day's play, Ged offered to show us the ground's real tennis court. This was everything we hoped it would be – which is to say an almost entirely baffling experience. As far as we can work out, those who commit to real tennis from an early enough age must at some point hit some sort of sweet spot where they have had sufficient time to attain a rough grasp of the rules without yet having been consigned to a wheelchair through old age.
After that, it was time to shake hands and part ways. We politely reminded Ged to try and keep his match reports as short and pithy as possible and then the next day wrote 800 words about meeting him.
Did Ged make Lord's throdkin?
Did he ever. Top man. Recipe here.
Send your match reports to king@kingcricket.co.uk. If it's a professional match, on no account mention the cricket itself. If it's an amateur match, feel free to go into excruciating detail.