2
minute read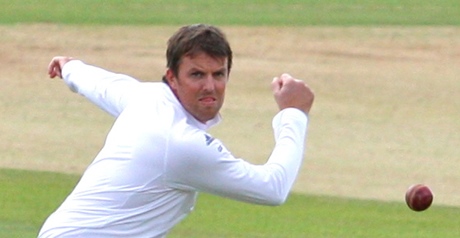 It's a strange and wonderful sport where two members of the opposition who aren't even on the pitch can aid your cause, but Graeme Swann can thank Trent Boult and Neil Wagner for three of his four wickets.
The two left-armers created some beautifully scruffy turf for him to aim at and the added purchase meant the ball did plenty more than you would ordinarily expect. People talk like it's surprising when the ball turns so early in the match, but pitches don't wear uniformly. Even after just one innings, the footmarks from two left-armers probably provide Swann with more rough than on the fifth day of any other Test match.
Unless you're Sri Lanka in the Murali era ("Hey, you're left handed and have quite big feet. I don't suppose you're free for a bit of seam bowling between Thursday and Monday, are you?") you don't pick your bowlers for the by-products of their endeavours. Yet footmarks can lead to crucial wickets and can therefore decide a match.
What a wonderfully complex sport. Imagine explaining this to someone new to cricket. Imagine having to explain spin bowling and the impact of the rough. Now imagine the person saying in a loud, booming, almost certainly American voice: "You know what they should do. They should bowl from the other side of the stumps so the rough patches aren't in the right place for him."
Actually, don't imagine that. It's too irritating.