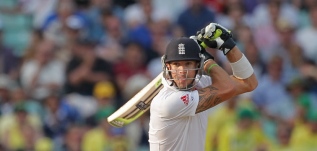 There's a lot of talk of it being the end of an era for England; how many of the familiar faces won't be around for the next Ashes in 2015. It's not surprising many of us want to throw all our old toys away and buy new ones, but you only have to look at Australia to see that bad sides show ill-advised haste in changing the guard.
You may not read Australian sports pages…
And if you're English, we'd advise you don't start at this exact moment, but before the last Ashes series you would have got the impression that Australia had the greatest attack in the world. That doesn't seem an entirely ludicrous claim right now with three utterly relentless and complementary quick bowlers supported by a decent spinner and an all-rounder who doesn't let the run-rate rise one iota.
Thing is, they were talking about an almost entirely different bowling attack earlier in the year. The widespread belief was that Australia had found young quick bowlers who would smoosh the Poms without breaking sweat. James Pattinson, Mitchell Starc and Jackson Bird were the chosen ones. Many thought that Peter Siddle should make way for one of them and hardly anyone wanted Mitchell Johnson within a thousand miles of the squad.
The future had arrived. Everyone was in a bloody great rush to get on with it.
The future's still in the future
Pattinson didn't tend to look too threatening in that series and averaged 43.85. Mitchell Starc's form oscillated as wildly as his place in the side and he somehow averaged 32.45. Jackson Bird looked nice and steady in the one match he played, but only took two wickets for 125.
And who's ripped through the England batting line-up in the return series? Knackered-up old Ryan Harris who will apparently remain precisely five minutes away from a career-ending injury for the rest of time; boring old Peter Siddle; and Mitchell Johnson, a man who'd previously spent a large proportion of his Ashes career crying in dressing rooms.
Throw in a desperation stakes recall for Brad Haddin and you're halfway to an indomitable Test team.
Making changes
We always talk about who to drop and who to replace them with because that's the most obvious form of change, but it's not always the players so much as the way they are prepared and motivated. This stuff's invisible to us watching from the stands or on TV. However, the most obvious changes aren't always the best ones.