3
minute read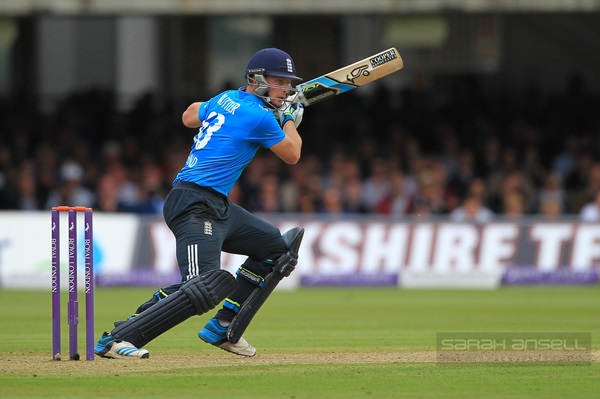 After watching Jos Buttler hit over a third of the deliveries he faced for boundaries against Pakistan, it's tempting to wonder whether maybe, just maybe, he might do well to shelve his watchful, deliberate approach to Test batting. It seems to us that he's much, much safer at the crease, and far more reassuring for England fans watching, when he's just standing there spanking sixes, all bionic eyes and adamantium wrists.
The responsible approach
For Buttler, getting down on one knee and ramping the ball over the wicketkeeper is 'playing responsibly'. When he tries to play the ball on its merits, he suddenly looks all too frail. Forget it, Jos. Most people have to respect the bowling, but you don't. In fact it's very much advisable that you don't. Disregard the merits of the ball, disrespect the bowling. We promise to vilify you if you're dismissed playing a forward defensive stroke and we'll overlook all caught-at-cow-corners.
But how you persuade a batsman to employ such an approach is another matter altogether. It's not like England are telling Buttler not to bat like this. We daresay someone involved with the side's noticed that he plays rather better when he's liberated. The problem is you can't just say 'play positively'. We've covered this before. You somehow need to persuade the person in question that this is what you want and that they will benefit from that approach. Even if those are a given, as they perhaps are in this case, it's still not an easy matter putting it into practice.
The myth of 'his natural game'
Test matches are different. The range of possiblities is far greater and your range of options as to how to approach an innings is far greater. One-day cricket – particularly in the later overs – is gloriously simple. There is no batting clarity quite like the batting clarity you have at 300-4 with five overs to go.
People often talk about a batsman's 'natural game'. Strikingly, they rarely refer to a deadbatting grinder when they use this term – it's always the quick-scorer. This leads to many people concluding that when such a batsman isn't lofting every third ball into the stands, they're somehow having a different approach imposed upon them.
It happened in the World Cup when many assumed that Peter Moores wasn't allowing certain batsmen to 'play their natural game'. This was bollocks. He didn't tell them not to – quite the opposite – he simply failed to create an environment in which they felt free enough to do so. The gleeful carnage is not the default. It's only natural in certain circumstances.
Which brings us back to Test cricket
With so many options, so many ways of unpicking the puzzle before you, a batsman can find himself caught in some noncommittal middle ground in Tests (and shortly afterwards, he might find himself caught in a more literal sense.) One of the keys to Test batting is to find a way of navigating all of this; of somehow imposing clarity on your own brain.
The main thing preventing Jos Buttler from taking his one-day batting ability into Test matches isn't the coach or 'management' – it's Jos Buttler's brain. If you think that the brain is an unnatural extra element when it comes to the act of batting, then yes, it is indeed preventing him from playing his natural game.
The other way of looking at it is that Jos Buttler isn't so naturally predisposed to the thought processes necessary for Test cricket as some are. He might bat like some otherworldly warlock in the shorter formats, but he's naturally confused and awkward when presented with more options. Hopefully he can learn to overcome this. Jos Buttler's unnatural Test batting would certainly be worth waiting for.