4
minute read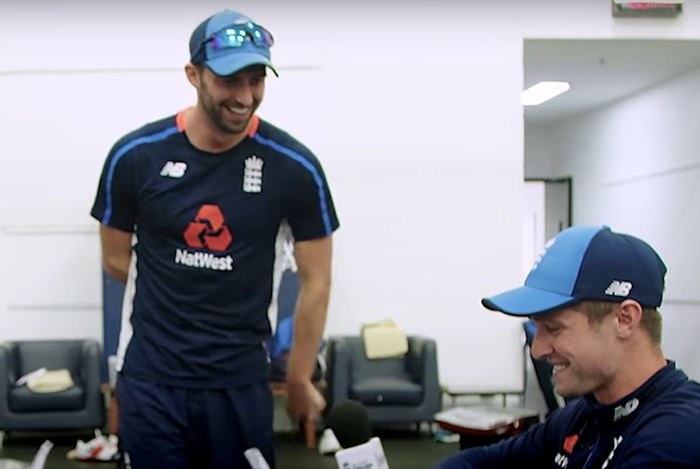 Chris Woakes is a very good and admirable cricketer. He didn't have the best of time in the last Ashes but has since bounced back in the shorter formats. If he were to play a Test match, he would not doubt take a bunch of wickets. Nevertheless, England should pretty much always play Mark Wood instead, who may or may not perform as effectively, and quite often not.
Now the first thing to say is that we like Chris Woakes very much. We believe he will play plenty of Tests for England and it stands to reason that this also means that we believe he will take many Test wickets and consequently bring us a great deal of Test joy (which is a very real and important brand of joy).
He is also widely perceived to be a very nice man. If in thirty years time our daughter were to tell us that she was going to marry Chris Woakes, we'd say: "Chris Woakes is almost 60. This age gap is unseemly."
However, if by the magic of time travel he was the exact same age as her, we'd say: "This is evidence of real actual time travel. This is incredible." But once we'd dealt with the seismic technological development (and really, what else is there to say?) we'd say that on balance, given some of the other historical figures she could have ended up with, Chris Woakes is an adequate and acceptable choice.
Although actually, now that we think about it, isn't Chris Woakes married? Maybe we'd be concerned about why he was running away from his own time period given that he had a wife and a burgeoning international cricket career back then. That would be a bit suspicious.
Anyway, the point is that Chris Woakes is an agreeable-to-likeable man. With hindsight the whole 'would you be happy for him to marry your daughter' thought experiment was a bit of a misstep on our part given their respective ages.
(Also, a quick note to say that we'd rank Mark Wood slightly above Chris Woakes on the likeability scale because he can be genuinely funny – and really, what other worthwhile quality would you ever look for in a person?)
(Another quick note. No matter what else he does, likeability will always be something of an uphill struggle for Craig Overton (remember him?) because he will always retain the air of someone who maybe once did a racism.)
(Yet another quick note. If he ever stops to think about it, Jamie Overton will probably  resent the fact that he also faces an uphill struggle for likeability because of the tarring-by-association that comes with being a twin.)
(Final quick note. We've just thought how Jamie Overton can easily avoid this. He should cast Craig as "the bad twin" which would of course make him the good twin, ergo likeable.)
Here's the thing about likeability: at no point did Shane Warne and Glenn McGrath slow their wicket-taking as a result of our feelings about them during their playing days. Likeability and Test performance are not really connected and when you're picking a team, it's 100 per cent about how effective you think the player is going to be. (We're going to be honest here, we're going to flatly contradict this point a little later in the article.)
So what does Chris Woakes actually do? Let's take a look at England's bowlers to see what each of them offers and let's do it according to Steve Harmison's Theory of Units because that is something we fundamentally agree with.
Swing bowling: Jimmy Anderson is pretty much the best swing bowler there's ever been.
Tall bowling: Current form notwithstanding, Stuart Broad has been a very good tall bowler.
Reverse swing bowling: Wiser men than us might disagree, but from what we've seen we feel like Ben Stokes has a legitimate case to be considered England's best reverse swing bowler. Certainly, most of the occasions when he 'makes things happen' seem to be occasions when the ball is also reverse swinging for him.
Spin bowling: Moeen Ali is the man who makes the ball bounce a bit funny by spinning it with his fingers.
So what does Chris Woakes add to the palette of things? Does he do anything different to the people listed above? Does he do any of the things listed above better than the people listed above?
Not really. In contrast, we could also add…
Fast bowling: Mark Wood.
Now, we can't help but concede that Mark Wood is not always a fast bowler. Sometimes – perhaps even a lot of the time – he is just as fast-medium as everyone else. In fact it is not all that uncommon for him to bowl less quickly than Chris Woakes, who we would generally categorise as 'brisk'.
But Mark Wood can bowl quickly. This is a thing that he is capable of doing and on the occasions that he manages it, he adds an extra thing to the bowling attack, which improves as a consequence.
When Mark Wood bowls quickly, he is electrifying. Chris Woakes is not electrifying. This is not meant as criticism of Chris Woakes because the truth is that very few players are ever electrifying. Being electrifying is a rare and valuable thing and that is why whenever you have a choice between a player who is possibly electrifying and one who definitely is not electrifying, you should always pick the possibly electrifying player even if there's a more than reasonable chance that he will actually not perform as well as the other guy.
Cricket is meant to be fun and those rare moments when you think to yourself 'something is happening' are the most fun of all. Andrew Flintoff's career record is famously nondescript, but he will always retain a warm place in our heart for all those occasions when he made us feel like something was happening.
There is also the small matter of retaining Mark Wood as a Test cricketer. Not so long ago we wrote at length about how the two Tests against New Zealand in 2018 potentially represented the final chance for him to have a career in the longest and most memorable format of the game.
Chris Woakes has been in the England Test team enough that we're pretty confident he will be picked again. Wood, on the other hand, seems to exist in a constant state of maybe having already played his last Test without anyone actually realising it.
Wood should be picked and then hopefully something magical will happen and we can all stop worrying about the game fracturing into pieces for a day or two.