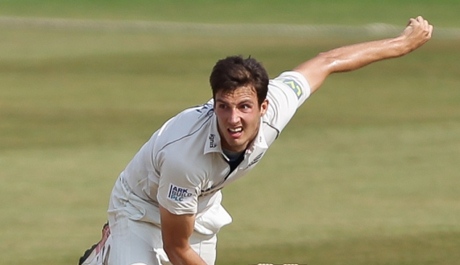 We're going to repeat ourself a bit, but it's okay because we're repeating things we wrote ten years ago so nobody'll remember.
Actually, let's go the whole hog and stick in a block quote.
"It is often said that he has the 'knack' of taking wickets; that he can get people out with bad balls. This is only a whisker away from saying that he's blessed with outrageous good luck, which is, if you consider it rationally, complete testicles. If a bowler consistently takes wickets, it's with good reason – it's because they're talented."
A decade ago, we were writing about James Anderson, who we're sure you'll agree has since made a compelling case to be considered an extremely good bowler rather than an unusually lucky one. We now feel the urge to say much the same thing about Steven Finn who has just returned to the England team for the umpteenth time.
Finn does not have a knack for taking wickets. He is simply a bowler who has it in him to be extremely good. He also has it in him to be pretty ordinary of course and while he might be one or the other for a whole match, a particular spell, or for just one delivery, the one thing you've been able to count on of late is that he'll veer to the opposite extreme before too long.
Writing on Cricinfo, George Dobell suggests that a blessed state of thoughtlessness may go hand in hand with Finn's best form. We wouldn't argue with the assertion that a relaxed body is likely to result in a few extra miles per hour, but only Finn can know his mental and physical state and how they might be linked at any given moment.
You wonder whether given a position of more permanence in the England team, Finn might find himself more prone to a zen-like state of awkward 90mph lifters, but it's impossible to offer him such a thing without seeing more signs that it would happen.
What selectors, commentators and the public shouldn't do is diminish Finn's case by ascribing his wicket-taking to some vague unelaborated 'knack' which makes it sound like it's in some way out of his hands. Finn has specific qualities that earn him wickets and it is important to keep these in mind.
The odd wicket might be lucky, but luck cannot carry you any great distance. Finn's overall record says more about his ability than his fortune.