2
minute read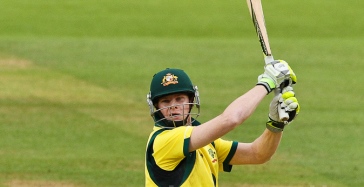 We've been struggling with this for months and we've still not reached any firm conclusions. We asked an Australian friend for his view and he just said: "He'll be fine," which didn't really help clarify things.
We're probably verging towards this: In good conditions in the first innings, Smith's head's good enough to score runs; but in poor conditions or in the second innings, his method makes him a bit of a liability. But this view is by no means set in stone.
Appearances can be deceptive
We feel like we're being misled by his hideous technique. Steve Smith appears to have a bat with a handle significantly longer than is the norm. It's probably just that he wafts it around eight feet outside off stump when the bowler runs in like it's a magic wand and he's trying to make the point fielder disappear.
When the ball arrives, things pretty much sort themselves out, unless he's pulling, in which case he for some reason does it with a high left elbow. It's all a little odd, but odd's not necessarily bad.
General physical weirdness
Maybe it's just Smith in general. His double-elbow chicken dance bowling action is weird enough, but actually pretty much everything he does is weird. Even when he was whocking a six to reach his hundred, he sort of half fell over afterwards. Everything's kind of clumsy and with there being no clear distinction between chin and neck, he really doesn't look like an athlete.
Have you seen him run? Does he have a bad hip or something? He moves like an elderly woman. Watch him setting off for a quick single or trying to skip up the steps back to the pavilion. There's an enormous discrepancy between the amount of effort he puts in and the return he gets on it. A huge, full body convulsion seems to result in him getting his foot about half an inch off the floor, like all the energy has dissipated somewhere along the way.
He scored some runs though and that's happened a few times now. At some point we'll come to terms with that.