3
minute read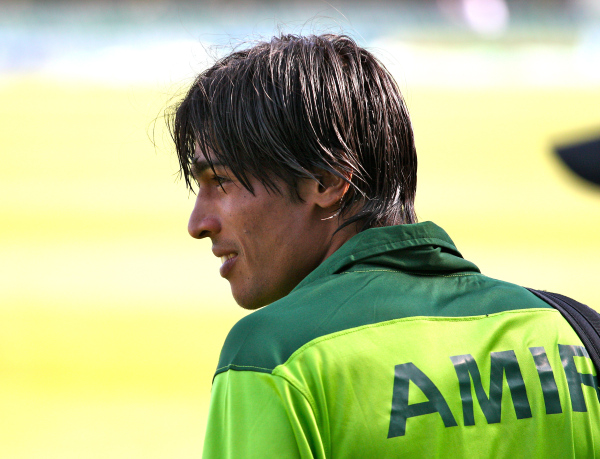 We were a tremendously big fan of Mohammad Amir even back when he was called Mohammad Aamer. Things have not always been smooth since then. There have been blips.
They say that prison changes a man. We ourself have never been incarcerated. One time we accidentally ran a red light late at night because a cat was crossing at the junction. We slowed to a stop and watched it safely cross, but when we looked up again, we found that the lights had changed and we'd rolled a few feet beyond them.
Bang in the middle of a deserted junction, we had to choose between pointlessly reversing or simply driving off forwards. We went for the latter. Unfortunately, all of this took place immediately outside a police station and a cop car pulled us over and it was terrifying. It was about this point that we concluded that we probably weren't equipped to do serious time in the slammer.
So we're not 100 per cent clear what they mean when they say prison changes a man. As far as we can tell, it fractionally dulls outright cricket brilliance, because while Mohammad Amir remains a very, very fine bowler, the extraordinary gasp-inducing, match-turning moments seem to have come less frequently during Act Two.
He seems very slightly eroded. We're interested to know what proportion of him remains and whether we can express that as a percentage of his former self.
Before and after
Amir entered Feltham Young Offenders Institution with 51 Test wickets at 29.09. Since he emerged, he's taken 49 at 34.91.
His one-day international figures tell a very similar story. The synopsis for that story would be "not quite as good, but similar" which is not exactly the kind of tale where people will be rushing to buy up the film rights.
Maybe this isn't about the stats.
The moments
The most captivating cricketers are generally those who give you very specific memories. We are struck by those whose manic peak form transcends everything else we see, even if there is also a depressive compensatory period afterwards. We're pretty sure Mohammad Amir fits into this category.
Sadly, Cricinfo does not record the number of times a player makes you say "holy shit!"
Maybe this is something CricViz or someone could look into. The general sense though is of holy shits arriving with reduced frequency.
The good news
They can still happen. For all the jaded, stubbly, not-quite-as-pure-and-joyous-as-he-wasness about Amir Mark II, he still has it in him to do things other bowlers cannot.
Not many people can bowl deliveries that would dismiss Virat Kohli in a one-day international. Fewer still can bowl two in a row. The only real disappointment was that the second one was caught, denying Amir a sort of Kohli moral victory hat-trick.
He should also be a bit better prepared for bowling in England than last time around. He played for Essex last summer and speaking to Wisden Cricket Monthly, wicketkeeper James Foster said something along the lines of: 'He was getting crazy mad swing, the likes of which I've never seen before even though I'm old.' (This is not a direct quote.)
Three things Foster literally said:
"He's the most skilful bowler I've ever kept to"
"He's as good as I've seen"
"[One particular spell of bowling] was basically impossible to face"
So what proportion of Mohammad Amir will play the Tests against England then?
This is difficult. We're absolutely regretting floating the idea of expressing this as a percentage because it doesn't make sense. But you can't just scroll up the page and delete stuff, can you? No, you can't. Not in this day and age. You have to try and deliver what you suggested you might deliver, even when it's impossible.
Amir himself says he's learned new skills, but at the same time, he's a bit more chronic knee problemmy. Let's write those developments off against each other because then we can just concentrate on the original Amir and whether there's been any reduction there.
The stats say there has been a reduction, but the Essex performances say otherwise (he averaged 13.50 in three Championship matches and was their most economical bowler in 13 T20 matches).
Conclusion: Maybe, if last year's spell reminded him how to bowl in England, we'll get somewhere around 95-100 per cent of the old Mohammad Amir (only without the propensity to make huge, life-changing mistakes).