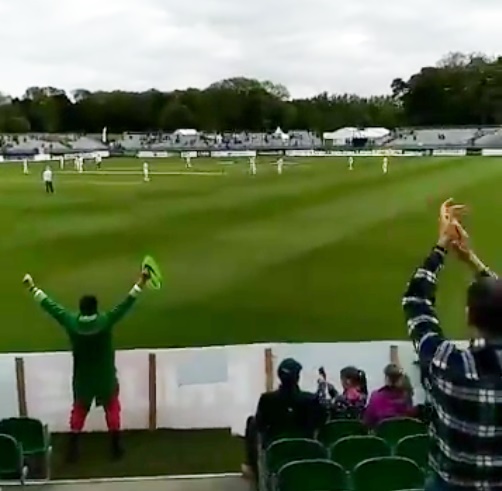 Chuck writes:
With my Aged Parent heading towards 83 not out this summer (a superb innings), I decided it was time to introduce him to the pleasures of Test cricket by bringing him to his, and Ireland's, and indeed my first men's Test match, against Pakistan in Malahide. Well, day three of it, anyway.
Coming as we were from different sides of the city, we arranged to meet far too early in the city centre (it's a genetic thing) and then had to kill an hour while we waited for our train. We went to a café and had a coffee, even though they seemed to be serving beer at 9am to some of the customers. The Aged Parent thought it might be non-alcoholic beer, given the early hour, but that didn't seem to reconcile.
There was a lot of good humour and banter on the train to Malahide and on the short walk up to the cricket grounds one gentleman told me, without any introduction or invitation, that Ireland were now unique in being the only Test nation to have had their first day of Test cricket lost completely to the weather, and I told him that weather would no doubt play a large part in many of Ireland's Test records in the future. That sort of good humour and banter.
I had always suspected that a large part of the draw for my Aged Parent in accompanying me to the cricket was the day-long access to the bar; he managed to stave off the thirst pangs until just after midday, after which hour of course everybody knows it is respectable to start laying in the drink.
He took himself off to the bar on our joint behalf and returned sheepishly a few minutes later to tell me the Gardai (that'll be the police) had ordered the bar to stop serving and to only begin again at 12.30pm, which is the official start time for alcohol sales on a Sunday. (I know, crazy.) He went back down again at around 12.25pm; you have to admire his restraint. He was delighted that local pub Gibneys, which was running the beer tent, was selling its own-brand porter, which he pronounced to be very satisfactory.
After that, we followed the traditional lunch and tea breaks for food and other refreshments (a very so-so burger and chips for lunch (it wasn't me, the AP wanted 'something with chips'); beer; an excellent speciality wood-fired sour dough pizza for tea; beer). It was a busy afternoon as we were also tracking developments in the soccer and Gaelic games arenas throughout the afternoon, so we needed sustenance.
We met all sorts, as I suppose you do, 'at the cricket': one very depressed Sunderland fan; one Australian to whom I displayed remarkable elite mateship by not mentioning ball tampering; and another gentleman who told a very long story about the Irish ambassadorial residence in Tokyo, the details of which I won't go in to here. Actually, we didn't need to meet this gentleman; he was seated around seven rows back, but we caught every detail and eventually we just moved seat rather than disturb his flow.
We made the obligatory visit to the Irish cricket team's new sponsor's tent and got as much free gear as we could get away with without actually committing ourselves to anything or signing up to their mailing list or anything like that (although we had prepared a story and a fake email address, just in case: my Aged Parent was to say he did not have email, and my email address was to be Javon.Scantlebury-Searles@westindiescricket.com). I think the only thing we didn't try was the ice cream van, which was doing steady business given the weather, which was really pretty good for Ireland in May.
By 5pm, my Aged Parent was a little tired of the cricket and so we wandered down the town for a 'proper' pint or two in a proper glass, i.e., a glass. Obviously, we were nice and early for our train ride home.
Send your match reports to king@kingcricket.co.uk. If it's a professional match, on no account mention the cricket itself. If it's an amateur match, feel free to go into excruciating detail.