4
minute read
If you'd asked anyone, at any point in the last year, how this ever-so-predictable World Cup would climax, they'd have all given exactly the same answer. It was always going to end with Welcome to the Jungle blaring out over the PA as Marnus Labuschagne punched the air with 58 off 110 balls to his name.
We don't know who chose the music, commentators or plot for this final, but they were presumably hired at late notice without having paid much attention to what had been going on in the preceding weeks and years.
The sound
The match was played in front of 92,453 fans, most of whom appeared to have splashed out on a blue shirt, and this made for quite the atmosphere early on. (The size and enthusiasm of the crowd, not their attire.)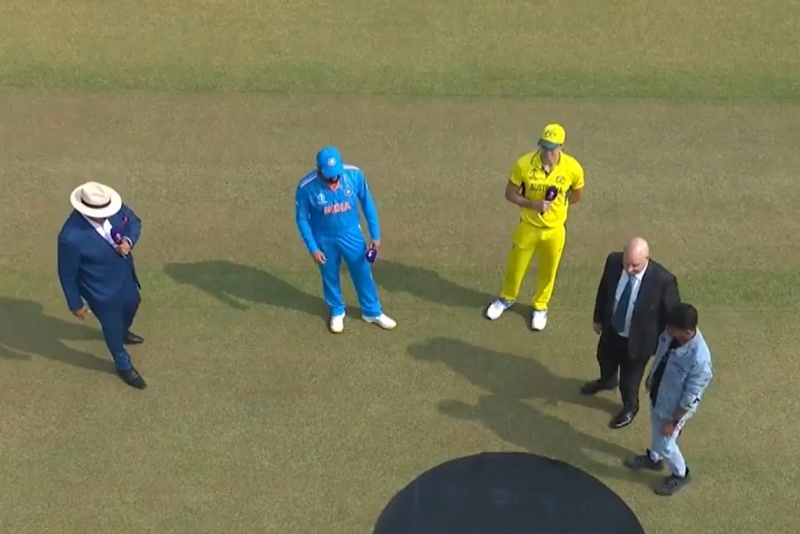 The loudest person was obviously Ravi Shastri, who delivered a personal tour de force at the toss, all tongue-in-cheek bombast and boxing match hyperbole. His extraordinary delivery succeeded in cracking both captains up. (Cummins held it together until he was hit by the totally unjustified level of drama imbued in the line, "Andy Pycroft, the match referee, who has a job on his hands today.")
There may well be good reasons why the Enormodome named after India's Prime Minister is not quite your favourite stadium, but the fact that India can fill a receptacle of this size for a cricket match is nevertheless something to be celebrated.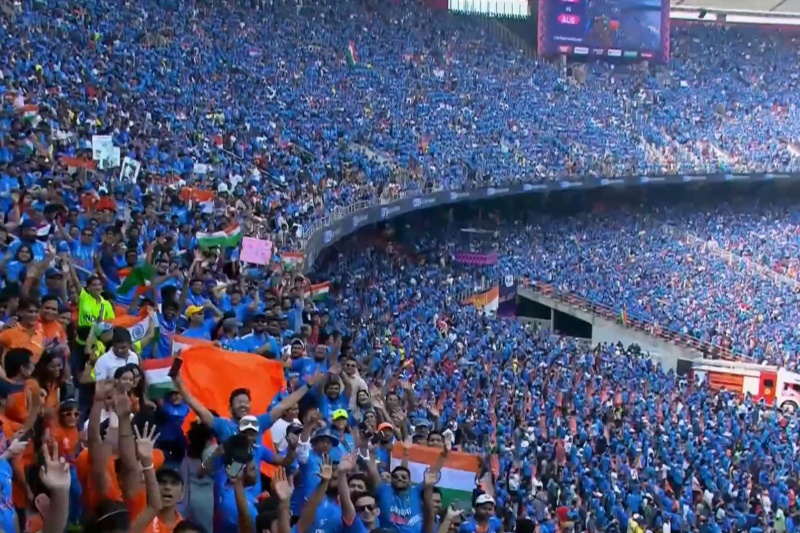 Crowds matter, crowds make matches feel like a big deal – and this was, after all, the World Cup final. We have no idea what form the Saudi T20 league will eventually take, but good luck buying these sorts of attendances if they're planning on holding it in the Kingdom.
Much has been said about the incredible lack of sound when Indian wickets fell or when boundaries were hit by Australians, but when there is noise in an Indian ground, it is incredible. We went to an IPL match once and at one point our friend Dan literally shouted something directly into our ear at the top of his voice and we couldn't hear him. He later told us that he had been saying: "This is loud."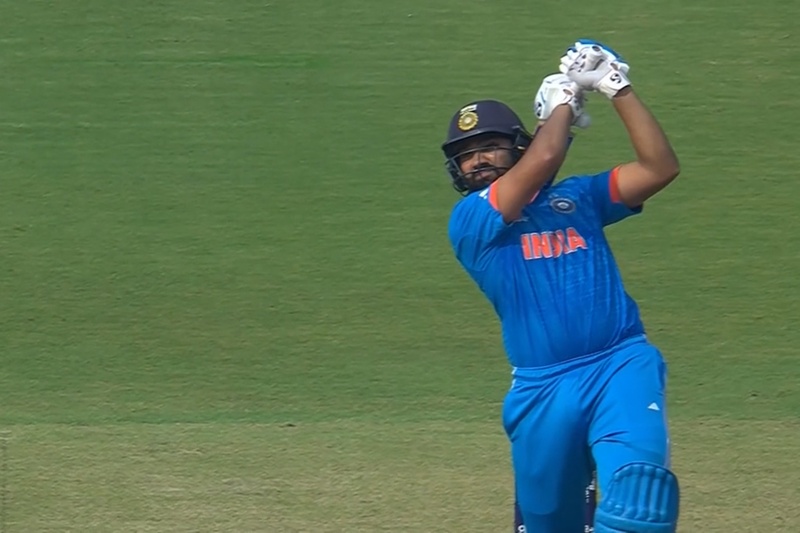 So the Ahmedabad crowd – more so early on – really gave this event its sense of occasion. It was worth drinking it in. When Rohit Sharma laced Mitchell Starc for six or whatever, the audible reaction was exceptional and needed no embellishment… except, perhaps, a few bars of Let's Get It Started by The Black Eyed Peas, concluded someone.
Even worse sound
We assume it was the same someone who hired Matthew Hayden to do some commentary. Matthew Hayden with his habit of starting one sentence and finishing a different one. Matthew Hayden with all his extra words.
At one point Haydos ("The Big 'Dos" he called himself at one point) identified some supposed theme in how the game was being played and observed, "That's been the narration of the last five overs."
We highlight this particular line only because it's such a pure and perfect Haydenism. He's like a thesaurus-reliant piece of homework or some shonky translation software. Narration? Why use a perfectly normal word that fits perfectly if you could instead use a semi-related one that doesn't actually quite fit?
The plot
The overarching story of this World Cup had been tired and derivative and lacking in any real tension. India were winning every game and had massive home support and it was going to be a whole big thing for them.
If there was an outside chance of a plot twist, we all assumed that Australia's batters would have to do something pretty special. Glenn Maxwell had hit the fastest World Cup hundred and that insane double hundred. Maybe it would be him.
Turns out those innings weren't key preparation for the final because all he had to do was saunter in at the very end and wang a two. No, the really crucial knock from the group stages – the performance that really honed a method and truly foreshadowed what was to come – was when Marnus Labuschagne had nrrdled 46 off 74 balls against South Africa. That was what the final was all about: just sort of not getting out.
Conclusion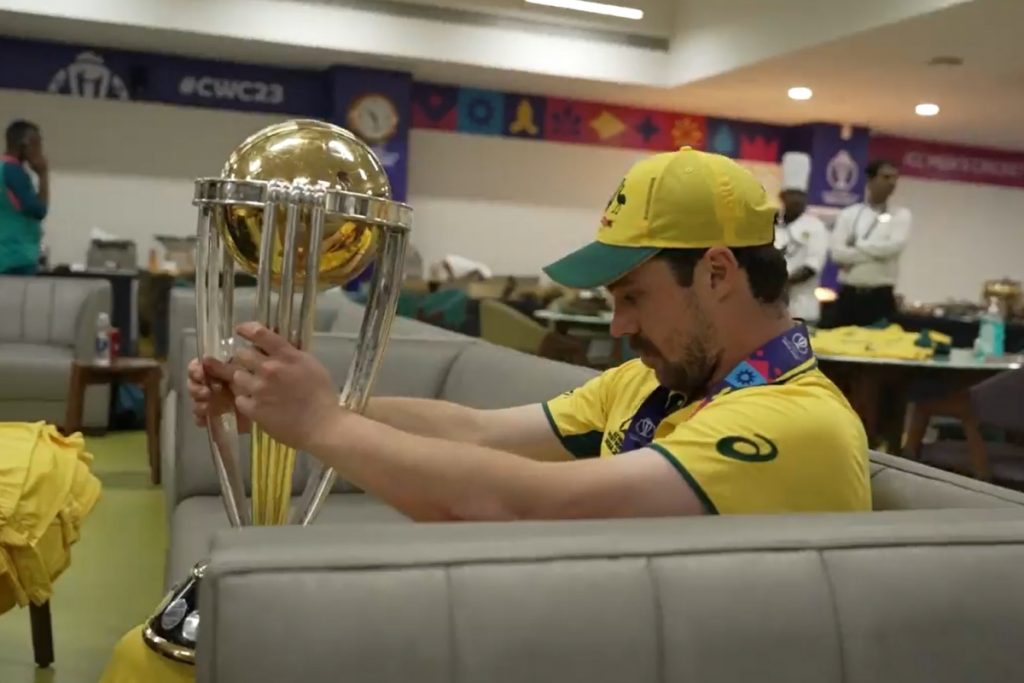 We feel quite bad for everyone who went, hoping to see an India win. These sartorially and emotionally blue people aren't the BCCI, trying to shape both cricket and its storylines. They're just fans, and tens of thousands of happy people in one place would surely have been preferable to the global black hole of disappointment we got instead.
But it was good to have a twist in the narrative. That in itself was refreshing and there were of course entertaining moments within that story arc too.
There were some Rohit Sharma shots. There was some high quality fielding. There was Virat Kohli morosely racking his brains as to how he might possibly be not out after being bowled. There was a pleasingly ambiguous first innings total that warranted baffled shrugs if anyone asked you whether it was enough. There was Travis Head. There was Travis Head's look. There was Welcome to the Jungle.