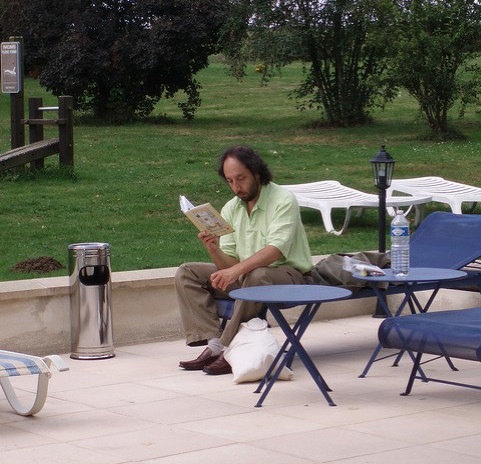 I read Life Beyond The Airing Cupboard in September 2009, while Daisy and I were on a short holiday in Burgundy. We had joined Daisy's sister, Lavender and her husband, Antonio Ordóñez for a few days, then we stayed on for an extra day or two before returning home.
Lavender and Antonio looked at us quizzically before they headed off when the answer to their question, "what are you going to do after we leave today?" was, "we're going to the Bresse service station for lunch". This is not such a crazy thing to do; I should imagine it is the only service station in the world that serves the indescribably wonderful Poulet de Bresse; at affordable prices too.
We also wanted to see Bourg-en-Bresse; I found a wonderful music shop there and bought a good few CDs, including Bach Cello Suites and some cool Parisian jazz.
Then back to the Moulin d'Hauterive for a game of crazy tennis on the hotel's unbelievably dilapidated tennis court; then some reading around the pool.
As you can see, the hotel was not very busy in September.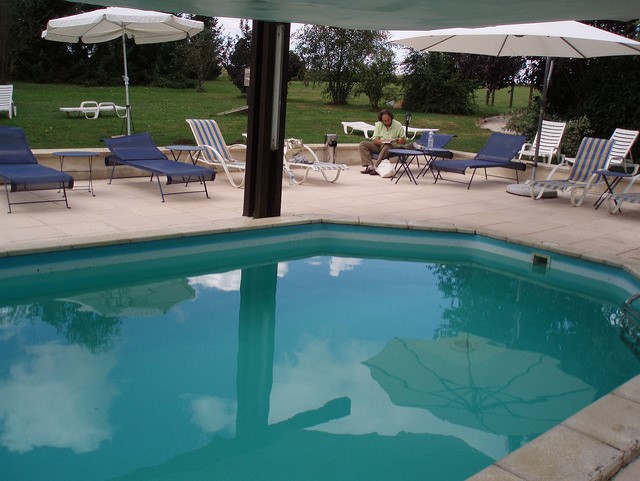 Strangely, several years later, Life Beyond The Airing Cupboard came up in conversation, reported on Ogblog – here, with Bill "Wild Bill" Taylor, at Trent Bridge.
Life Beyond The Airing Cupboard by John Barclay – click here for Amazon link.
**** 4 Stars = Highly Recommended.
(The Ged Ladd Cricket Book Review scale: From 1 Star = Don't Bother to 5 Stars = Essential Reading).
Have you read a cricket book on holiday? Tell us what it was, where you were and give us a star rating. king@kingcricket.co.uk