You'll have heard of Michael Vaughan's 'artballing' by now. He throws, hits and bowls paint-covered cricket balls against a canvas and what results is branded 'art'.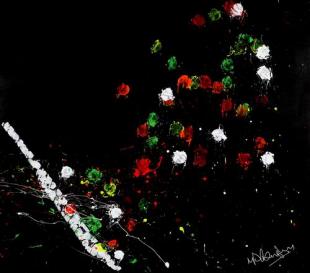 Vaughan took this up as part of his winter getting away from cricket. We're not entirely sure whether this really counts as 'getting away from cricket'. If Vaughan thinks it does, he's rather lacking in imagination.
If you do something for a living, doing the exact same thing only with the odd implement dipped in paint isn't 'getting away from it'.
If you were a mechanic and at the end of the day you were sick of work, would you spend eight hours working on a car using a spanner that had been dunked in red Dulux?
No. Chances are that might seem just a bit too similar to work.
We did a rare half-decent post about this artballing lark, so we gave it to The Wisden Cricketer where it would be more at home.