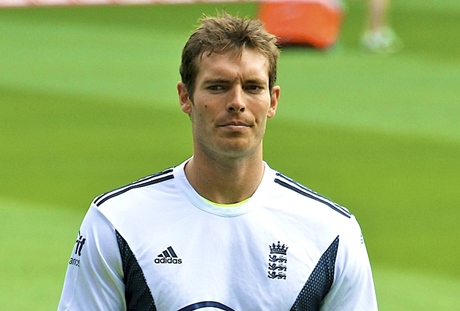 Today was a nice little primer in how to approach Test cricket in Australia. It called for extremes. England didn't really have any. It was all a bit fast-medium.
We blame Steven Finn for this. On England's last Ashes tour, he was exactly the right kind of bowler for Australian conditions, but lacking three years' experience. However, someone appears to have subtracted experience rather than adding it. Finn is less of a bowler now than he was then. And he's the young one. He's the one we were relying on to improve.
England have been left without a third seamer. In the first Test, they turned to Tremlett, who also fits the archetype for bowling in Australian conditions. For more understandable reasons, he too has regressed in the last three years. He now delivers little more than a nice bit of fast-medium.
The other three
Jimmy Anderson has other skills which mean he can get away with being fast-medium. However, they're less relevant in these conditions and a man who is normally a strike bowler must therefore switch to being a support bowler.
But who is he supporting?
In both Tests, England's third seamer has also been a support bowler, while Stuart Broad took two wickets for 80 when England triumphed on their last tour of Australia. Broad's doing well, relatively speaking, but you wouldn't build the attack around him.
Then there's Graeme Swann. Like Broad, his contribution was fairly insignificant three years ago – 15 wickets at 40. Why should we expect earth-shattering performances now?
More worryingly, he too is showing signs of being less of a bowler than he was. He suffered in comparison to Nathan Lyon in Brisbane where the latter's overspin was deemed to be advantageous and Lyon also looked more dangerous in his short spell today where the hardness of the new ball was floated as being a possible explanation for his apparent superiority. But how many exceptions does it take before what was previously thought to be the norm must instead be considered the exception?
Meanwhile, at the top
Is Alastair Cook all that he was? No-one seriously expects him to match his performances from the 2010-11 Ashes, but it's also true that he has just endured a long summer as an Ashes captain and the best part of two days directing things in the field.
He's a fantastic player, but he's unavoidably compromised. That's just the reality. Someone has to lead the side, Cook appears to be the best candidate and he simply has to try and minimise the impact on his batting. He's still more than worth his place, but on balance he's probably not quite the player he was.
Small changes
If all that sounds unremittingly bleak to English ears, it's not meant to be. We're talking about minor deterioration here. Small changes can make a lot of difference.
Take Mitchell Johnson, for example. With a year off and a bit of tinkering with a view to improving his accuracy, he advertently gained about 8mph in pace – not bad as side effects go. Suddenly he had a way to consistently threaten batsmen and this brought confidence, which brought relaxation, which then brought the accuracy he was striving for all along (greater accuracy at any rate – he's still Mitchell Johnson).
Johnson is now quicker, more accurate, confident, determined and focused and Australia have the best bowler on either side – something they haven't been able to claim with any confidence for seven years. While it would be going too far to say the team's performance entirely hinges on this – Ryan Harris and Michael Clarke are fantastic players in their own rights – there is certainly a case for saying the team as a whole has gained confidence as a result of Johnson's apparent transmogrification and that they have been able to play under less pressure as a result of his wickets.
An opportunity
But with so much of the team's improvement hanging off Johnson's pace, England actually have an opportunity in this match – a very, very big opportunity.
If they can take Johnson into his eighth spell (he bowls short spells), they will sap his pace in this Test and inevitably for the next as well. If that sounds unlikely, the sad fact is that they won't have a better opportunity. The Adelaide pitch isn't particularly friendly to fast bowlers, but it's downright rude to those who deliver fast-medium.
How long will it take for Johnson to ebb to fast-medium? Who knows, but he's not had a really heavy bowling stint in quite a while and if England's batsmen can get to this point, Johnson's brain should take care of the rest. He might even turn to the razor blade (for the 'stache, obviously).
300-and-odd runs short of the follow-on would seem an odd position from which to launch an attack. It wouldn't be so much launching an attack, however, as very gradually unveiling one. Good luck – you're not exactly in prime position here, lads.