2
minute read
Dandy Dan wanted to include whispering to Amjad Khan that his was one of the worst debut performances for England that he'd seen, but felt that was far too much to do with the cricket.
Instead, he writes:
The day started with a feeling of the unknown. I'd invited a few people along but I had received no definite replies. Fortunately, at 10.15am, I received a text from a friend that said she was going to come. My girlfriend, Vicky, was planning not to come as she's got an exam coming up. However, the thought of me and a friend spending the afternoon drinking in the sunshine was too much too bear. Jealousy reigned and she joined us, albeit with a textbook in her bag.
We met Becky at the gate to find she had already been in and acquired some rather good seats. Whilst the rest of the spectators were sitting on green plastic garden chairs, we had the front bench in front of the pavilion.
Somewhat suspicious of our placing, we sat down to admire the beautiful scene. A few minutes later my suspicions were confirmed when hearing a gentleman on the phone behind me say: 'Tell him to bring his membership card, we've got the same seats as last year'. Realising we shouldn't really be sitting where we were, we did the only acceptable thing: cracked open a can of cheap Australian lager and waited for play to begin.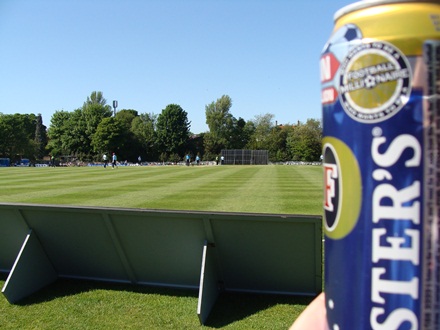 Liberal amounts of sun cream were applied. Factor 30 for the face and neck, factor 15 for all other exposed areas. Unfortunately this was not sufficient for my feet which were a bit burnt by the end of day. Vicky's neck and back got slightly burnt as well but this apparently had nothing to do with the strength of the sun cream and more to do with my poor application of it.
As my ability to use skin related products was being called into question, I felt it was probably best that I turned down her repeated offers of applying after-sun on her back later in the evening. Didn't want to get it wrong for a second time did I?
On the same bench as us, we befriended a couple of female Kent fans who appeared to be the only Kent fans who had made the trip. I engaged with them about how a certain member of the Kent playing staff was looking more svelte than he had done in previous years. They agreed.
We were also taken slightly aback by his apparent lack of knowledge regarding the rules. During the change of innings we heard him say in surprise to the umpire's question regarding which roller he wanted: 'We can have the roller on, can we?'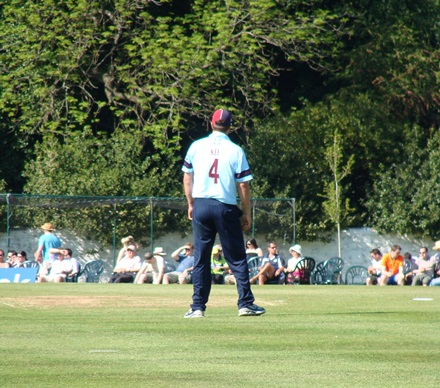 (A hero amongst us mere mortals © Price via text)
Afterwards we went to another friend's house for an enjoyable tuna pasta bake.