< 1
minute read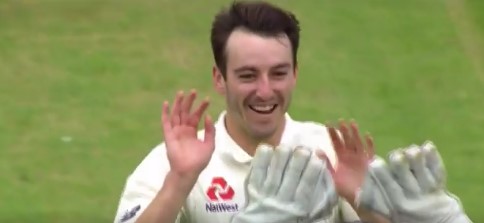 We don't believe you can draw meaningful conclusions from players' debuts – but we report on them anyway.
We suppose that if people call you Toblerone, you're kind of duty-bound to provide the odd peak. 4-39 is pretty useful for a kick-off.
Toby Roland-Jones seems to bowl at around 80mph. On another day, people would be saying that's not quick enough. But it works for Vernon Philander and it worked for Glenn McGrath. The trick is to keep playing well enough that no-one can find the time to dissect your shortcomings.
One thing you do have, when your pace tends towards medium, is less margin for error. Fortunately, on this evidence, Roland-Jones generally bowls within effective parameters. He hits that very small spot that is inevitably referred to as "good areas".
Tougher challenges await. It won't often swing and seam quite like this. At the same time, it seems likely that Roland-Jones will perform if it does. Shorn of debut nerves, he might even bowl better.
So he gets a green swinging conditions pass – and with flying colours. That's all it was within his power to achieve after one day of bowling and it's also not a bad qualification to attain if you're looking to do half your Test bowling in England.