Richard writes:
My impression of baseball is that, while on a different scale to county cricket, it is still the sort of game you can just turn up to and get in. There are loads of games, big stadiums and entry doesn't generally require tortuous membership schemes or frantically hitting F5 on Ticketmaster. This is Yankees v Red Sox on a sunny Saturday afternoon though so we were relieved to find only a small queue at the ticket office.
$100 (£70) for two should have been a no-brainer for someone used to England cricket and the Premiership, but it did make me pause. Then I remember the thousands of pounds it cost me to get to this kiosk and hand over the credit card. Daniel, who has witnessed plenty of paternal parsimony in his time, breathes a sigh of relief. As we head towards the gate we assure each other that this is the most excited we've ever been.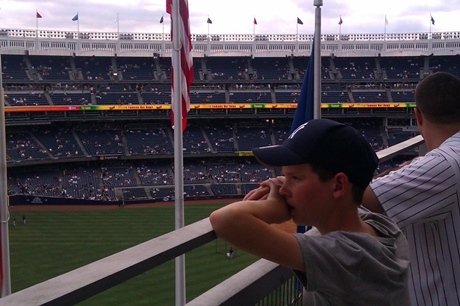 The bloke in the seat next to mine is asleep. His feet are up on the row in front and his legs are splayed all over my space. I tap him on the shoulder and he pushes a bad-ass bandana back from over his eyes and looks at me with slightly pursed lips. He's waiting for me to amuse him. 'I need to sit down.'
I'm trying to be gruff and uncompromising but probably sound like Hugh Grant apologising for spilling Tony Soprano's pint. He looks around at the swathes of empty seats, smiles, then lets me in.
I think better of asking when his testicles will be sufficiently recovered to allow him to sit properly. He's got a shaved head, forearms thicker than my thighs and I'm a long way from Headingley's Western Terrace. I'm glad I made him move though. I could've sat somewhere else but it's going to be a 50,000 full house and I would've had to move again at some point. Larry David gets whole episodes from lesser points of principle. Unlike my neighbour, Larry and I are both a credit to the bald community.
The runs
I watched my first live baseball in a Melbourne suburb in 1994. I loved it as much as I thought I would but, after sitting through eight scoreless innings, was surprised to hear an American describing cricket as 'baseball on mogadon'. I'm still fuming at that.
In the first innings of my fourth live ballgame I finally see a home run. In 12 hours and more than 72 innings I reckon I've seen about 12 runs in total. I'd have seen more than a thousand runs in four T20s wouldn't I? But of course, cricket's not about runs, is it?
Baseball's all about the runs. Runs are so scarce that even getting to first base is cause for a standing ovation. To get there you have to hit a small ball with a thin stick – a ball that's often propelled at more than 100mph by a dangerous-looking hillbilly with a mullet. Even if you manage to connect it's unlikely to do you much good. First you've got to hit it in the V between first and third bases, then you've got to get it past the infield. If you don't do the latter then the 90 feet to safety might as well by 90 miles.
When someone eventually does make it to first base, the nuance and interest ramps up. Now the fielding side has an extra problem. The first baseman has to stand with his foot on the bag – rather than positioning himself according to where he thinks the batter's going to hit. The pitcher also has someone else to watch and often has to throw to first base to stop the batter from stealing second. Boston had a man on base when they broke my home run cherry and got two runs.
In a low scoring game, two runs can be a mortal blow. An out, on the other hand, is just the game ticking on and engenders nothing more than a ripple from the crowd.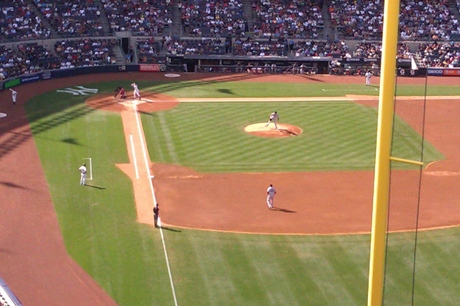 After a couple of innings we're joined by a group of young Red Sox fans. I fondly imagine they're frat boys from Harvard or MIT and christen the extra preppy, floppy haired one in the Ray Bans, Bret (Easton Ellis). He points to the back of a T-shirt in front of us, nudges his friend and sniggers. It says 'NY 26 Red Sox 7, you do the math'. That's World Series, son.
Boston get on top early and strangle the life out of their pinstriped tormentors. The scoreless innings mount up and we're left with nothing but nuance. We watch the shortstop relaying balls from the outfield – often having to make split second decisions on which base to throw to – and marvel at a rare NY right field fumble that costs another run. I overhear Bret telling his girlfriend that Boston's, definitely un-mulletted, relief pitcher went to Yale, as did the catcher. There has, apparently, been a recent Ivy league influx into baseball. That it's worth remarking on makes for an interesting contrast to our public school dominated summer game.
Last orders
The seventh inning stretch, a custom of which I was previously unaware, sees us singing, 'Take me out to the ballgame,' and Y, M, C and A-ing along with the big screen. The middle of the seventh is also the cue for alcohol sales to cease and for disappointed Yankees fans to start trickling away. We stick it out to the end then pick our way down to the plush, padded seats at ground level near the plate. A glamorous female steward politely tries to steer us to the exit and then fails to take our picture because her nails are too long to push the button on my phone.
Once outside, I briefly consider a stroll round the neighbourhood before remembering that we are in the Bronx and I'm responsible for a thirteen year old boy.
Cricket's not like baseball on mogadon and baseball's not like rounders on steroids (sometimes it's like baseball on steroids though). You can fill a book with their differences but after an afternoon as perfect as we've ever had at Hove, the MCG or Lord's, the two games will be forever stitched at the seams in my head. From backyard plates to driveway wickets; North Marine Drive, Scarborough to Yankee Stadium, the Bronx. Take me out to a ball game.