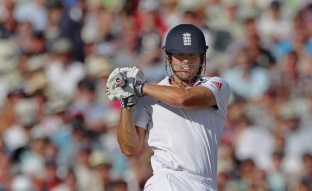 Restart the clock.
This may have been all of 10 runs more than he made just a handful of Tests ago, but it rewrites a tired script. Suddenly people can't fall back on 'hasn't made a hundred since…' and so they're instead forced to look at the facts. Those facts are that Alastair Cook has been scoring quite a lot of runs in Test cricket of late.
Cook knew that the fifties didn't really count though. He knew their value would only be seen in the light of a three-figure score. The man has more grit than a resurfaced rural road. Having painstakingly worked his way past fifty five times in his previous eight Test innings, he started again from nought. Again he wrung painfully deliberate runs out of this West Indian attack. Again he put the hours in.
He nurdled, worked and occasionally hoicked it to leg; he ignored the ball when it could be ignored; and when he called a team-mate through for a single that was never there, he ensured it was a homicidal single, not a suicidal single. He did everything in his power to ensure he reached three figures and for once, no-one stepped in at the last minute to deny him.
It meant a lot to him. You could tell. He even let fly a huge, bestial roar.