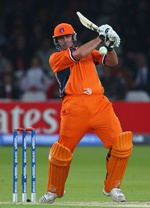 Is there anything on earth that can't be improved by the presence of a fat man who achieves his ends using amateurism and brute force?
No, of course there isn't. Think of Walter in The Big Lebowski. "You see what happens, Larry? You see what happens?" Incidentally, here's a surreally sanitised version of that scene, featuring the lines: "You see what happens when you fight a stranger in the Alps" and: "This is what happens when you feed a stranger scrambled eggs."
Anyway, Darron Reekers taps into this universally appealing modus operandi. He's about 20 foot 11, a bit fat, and every now and again he 'has a go'. With his first shot of any purpose against England, he holed out. Or at least he should have done. He took his eyes off the ball, got in a terrible tangle and spazzed the ball vertically. For six.
The man has power to spare. That power comes from his girth.