< 1
minute read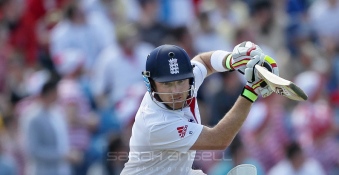 We normally look forward to Steven Smith turning his arm over. This is partly because of his bowling action, but also because for the most part he's rubbish. If Smith takes three wickets, this is officially what is known as 'a balls-up' on the part of the batting team.
The evening session balls-up followed a second successive 109 from Ian Bell. He would now appear to be the man for an England batting crisis and this is something we're all just going to have to come to terms with as quickly as possible. His face was very red when he reached three figures. This may or may not be significant.
The repair job, which was carried out in partnership with first Jonathan Trott and then Jonny Bairstow, was necessitated by the morning balls-up with England's new opening partnership apparently hell-bent on inching its way towards an admonishing statistical piece in one of the broadsheets.
At the end of the day, James Anderson came out as nightwatchman for Stuart Broad. If we're sticking with the sandwich thing, this amounted to a trace of blue mould on the bread.