5
minute read
There are an awful lot of T20 franchise leagues these days. It's hard to keep up. If you want to work out whether a new one is worth following, the absolute last thing you'd want to do is actually watch a match. So is there a quicker and easier way to measure the quality of a given league?
Back in August, we wrote a piece headlined 'How popular are all these Not-Quite-The-IPL franchise leagues actually likely to be?' The boiled-down jus of the article is that most T20 leagues aren't all they're cracked up to be. Not even close. There is in fact a massive excess of cracking-up going on and a correspondingly large volume of failing to meet up to expectations.
With the BBL, BPL, ILT20 and SA20 all currently underway, these are things we're thinking about a lot right now.
The photo
It all kind of came to a head with a photo of Joe Root. In the photo, Root is playing a reverse sweep while playing for Dubai Capitals with Abu Dhabi Knight Riders wicketkeeper Connor Esterhuizen looking on. What struck us was how familiar it all looked.
Root is obviously a very familiar figure, but his clothes were familiar too. They were basically the Delhi Capitals kit. Esterhuizen's kit was even more familiar as it was the hugely distinctive gold and purple of Kolkata Knight Riders.
So everything was familiar and yet any conclusions we might foolishly have drawn from that familiarity would have been wrong.
Here we had two teams consciously and explicitly shaped as paler facsimiles of franchises who themselves only retain a certain fraction of their playing staff from year to year anyway. It's hard to get a toehold in this kind of world. In terms of identity, we're talking a bunch of freelancers temporarily rallied round a photocopied flag.
Just to underline that fact, when we went looking for the photo just now, we commenced our search in the SA20, which turned out to be completely the wrong league.
Seriousness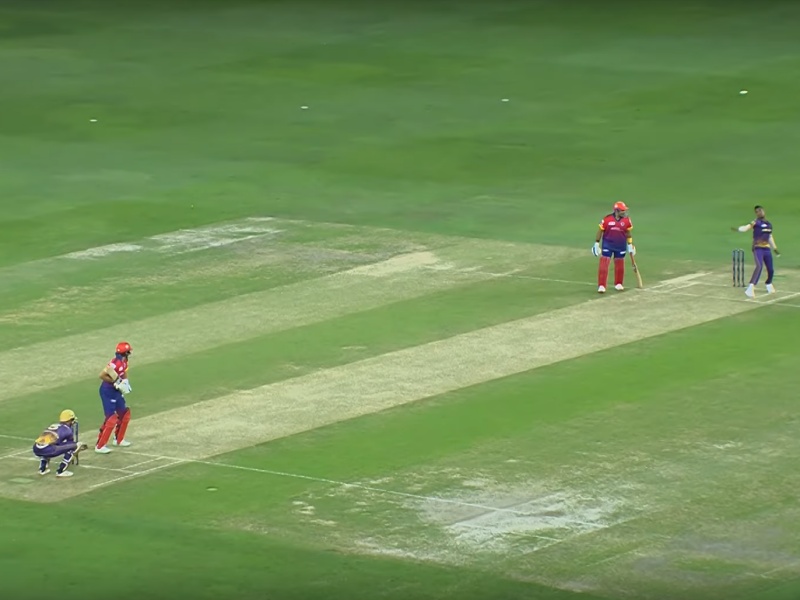 Dubai Capitals v Abu Dhabi Knight Riders didn't, to us, feel like a serious match. We have no doubt that those running the two franchises have put a lot of thought into shaping their squads and that they've done the best they can given monetary and availability constraints.
However, when you survey the resultant teams with no knowledge of that process, you could be forgiven for thinking the league had instead opted for the good old-fashioned names-out-of-a-hat system. (Not necessarily such a terrible thing. We've advocated for the hat in the past.)
If we've added up right (no guarantees) then Dubai Capitals fielded international cricketers from seven different nations. This is no mean feat, but it's also a measure of how widely the net's been spread. That approach gives you players like Bhanuka Rajapaksa, Sikandar Raza and Akif Raja. We've always loved Ravi Bopara, but he has been younger – so too Robin Uthappa and Yusuf Pathan.
Root's there, Rovman Powell's got a bit of T20 pedigree, but things tail off pretty quickly after that. What we've been wondering is whether there's a really quick way to measure that without even reading through the whole team sheet? (Yes, we are very lazy. What of it?)
Where the lack-of-quality shines through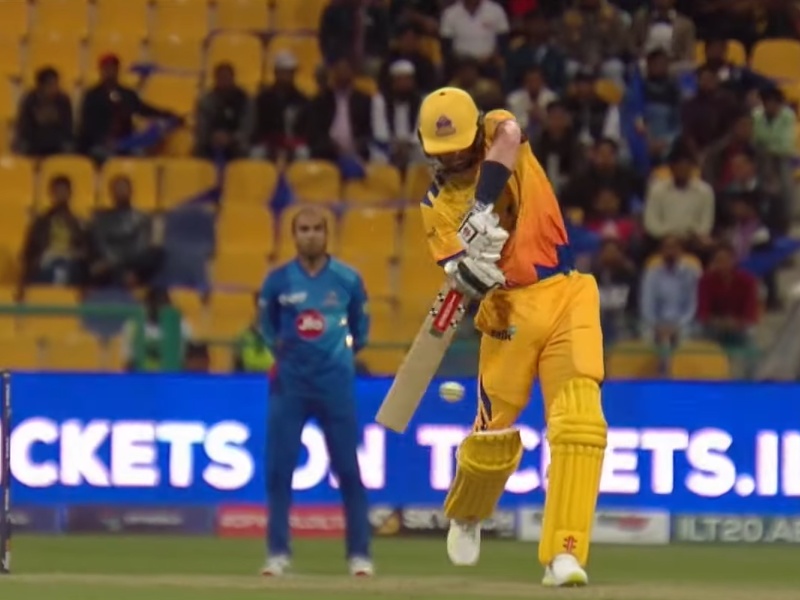 We've been wondering whether you can look at the two players in a particular slot on the scorecard in a given match and immediately draw pretty accurate conclusions about the whole league.
At this point we must guilitily inform you that we have no answers here, only scrawled-on-a-beermat thinking-out-loud.
If you manage to secure the services of a great batter, you'll tend to stick them up the order to get good use out of them. Opening bowlers will often be big names too. When squads are thin, that must leave holes elsewhere. But where exactly? Number six batters maybe? Fifth bowlers? We're not sure.
Number sixes?
If we take this option, Dubai Capitals v Abu Dhabi Knight Riders gives us Yusuf Pathan and Andre Russell. Pathan may be 40, but Russell's presence does actually suggest a pretty decent standard of cricket.
Last night's match between Sharjah Warriors and Desert Vipers gives us Joe Denly and Benny Howell, which is a little less good and also quite geographically misleading.
In the SA20, last night's Durban Super Giants v Paarl Royals match gives us Dwaine Pretorious and Dane Vilas. Familiar names at least and indicative of a league with a more local hue.
For the most recent match in the BBL, Melbourne Stars v Brisbane Heat, we get Nathan Coulter-Nile and Jimmy Peirson.
In the BPL Dhaka Dominators v Sylhet Strikers gives us Nasir Hossain and Thisara Perera.
Fifth bowlers?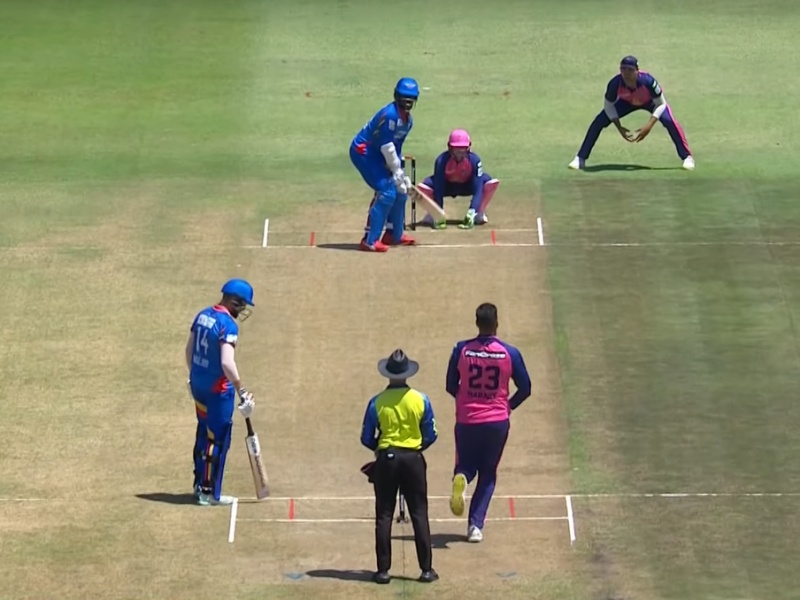 T20 bowling order is a lot less formulaic than in the longer formats. Captains are far more likely to mix things up, opening with a spinner or whatever. Fifth bowler feels to us like the most likely purveyor of the kind of no-man's land overs when the powerplay has finished and before things kick off at the finish.
Dubai Capitals v Abu Dhabi Knight Riders gives us Sunil Narine and Sikandar Raza, which even if Narine isn't quite the bowler he was, doesn't feel representative of the match as a whole.
Sharjah Warriors v Desert Vipers gives us Rohan Mustafa and Mohammad Nabi, which is closer but does also make us want to watch the ILT20 a bit because… Mohammad Nabi.
Durban Super Giants v Paarl Royals gives us Evan Jones and Dwaine Pretorius, which actually feels about right as a flavour of that match and league.
Melbourne Stars v Brisbane Heat gives us Mitchell Swepson and Clint Hinchcliffe, which is pretty good too.
Dhaka Dominators v Sylhet Strikers gives us Thisara Perera and Nasir Hossain (the same two who were batting at number six, funnily enough).
Alternatives?
What these examples suggest is that there isn't perhaps one particular playing role where weaker players are generally hidden. It also gives no sense of players who might be phoning it in. It doesn't tell you if a player's only around for three matches before jetting off to a totally different league.
However, what it does make us think is that if you picked one of these roles, or something similar, it wouldn't take too many games to get a real feel for the depth in quality in a given league.
The two roles above are just our initial ideas. There are probably better metrics for measuring the same thing and we're open to suggestions. The key is that it shouldn't involve analysis; it should be quick and dirty and provide you with an instant gut reaction.
How would you measure the quality of a T20 league?
Get the King Cricket email and treat yourself to a fractionally more entertaining inbox some of the time.