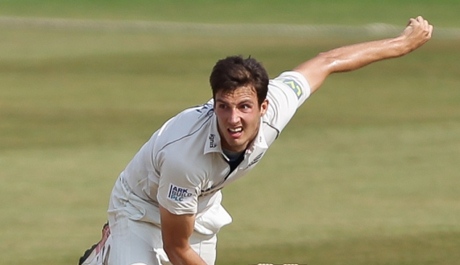 Way back when, there was an advert for Lancashire theme park Camelot in which they made great play of the second half of the name. We can't remember exactly how it went, but it was something like: "Laugh a lot. Scare a lot. Fun a lot. CAMELOT!"
Fun a lot?
Anyway, Steven Finn bowls well a lot. Seemingly. Hopefully. If true, this is a crucial change from days gone by when Steven Finn bowled well 'fairly often' or even just 'sometimes'.
Consistency is one of those qualities that it's impossible to see. You can only judge it over a prolonged period. Glenn McGrath was consistent. Wasim Akram was consistent. Dale Steyn is consistent. All the best bowlers are consistent. It's basically what separates you from the pack.
James Anderson and Stuart Broad always had it in them to bowl well, but they have become much better in recent years precisely because they have gained consistency. There have been signs that Steven Finn may have made a similar step.
In many respects, he's the same bowler he ever was. Same pace, same bounce, maybe a touch more swing. But while the highs remain much the same, they are arriving a little more frequently; the lows less frequently; and the bit in between is a little less mediocre.
These days Camelot is a creepy, desolate place where mannequins with tonsures litter the pathways. For many years people didn't come a lot and it was forced to close. There were good days, sure, but attendance was inconsistent. Consistency matters. Perhaps Finn noted this and concluded that if he didn't learn from the Camelot story then people would abandon him too and a bunch of scallies might set fire to his rides.