The Atheist from Are You A Left-Arm Chinaman? writes:
I was excited about going to see my first match of the season. This would be a perfect opportunity to wear my sun-hat without the usual sense of shame associated with over-keen headgear. Although its powers are potent, it didn't prevent pre-match embarrassment on the trains.
I caught the eye of a busker at Monument Station. The hat could not prevent the subsequent blushing and awkwardness. I also saw three grown men play with a remote control car in a car park. They were displaying the sort of dedication that the building of mighty, pink beer-bellies requires.
I also attempted to buy a pair of cheapo sunglasses in the Kennington Tesco. It failed me. I suggest you boycott Tesco when purchasing your fashionable shades in the future.
I noticed that many previous correspondents voiced a preference for pies. I was determined not to eat pie. It was summer; it was sunny; it was hot. This was not pie weather. Maybe a salad? Or an honest sandwich even.
The Oval disagreed.
"I think you'll find that climactic conditions favour the pie" said the ground, "so that is all you shall have."
Bloody know-it-all stadiums.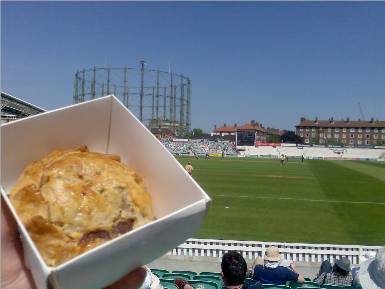 The one saving grace was the pie-monger's resemblance to an old work colleague. Every Monday morning, we would gather around her office with our plastic cups of coffee as she regaled us with stories of her weekend's sexual adventures. Her tales, if matter-of-fact in their delivery, were vivid and precise in their detail.
"He did this, which I didn't like. Then he did that, which I did like."
We would all try to empathise as we reflected on our own weekends of half-completed DIY projects and trips to the supermarket.
We used to wonder whether there was a bloke, in some other part of London, providing an equally meticulous account.
"She did this, which I didn't like. Then she shut up, which I did like."
He was probably sitting behind me. He shouted a lot. "Eh-ssex! Eh-ssex! EH-SSEX!" he would say. Sometimes, he would forget the rest of the words. Those moments were like buttered bliss.
In any case, I got very sunburnt. I also saw a nice aeroplane.