4
minute read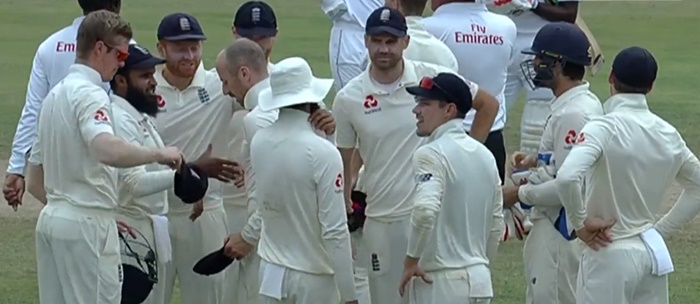 When Dan Vettori made his first Test hundred, against Pakistan in 2003, he was batting at nine. The side featured only three out-and-out batsmen and only two bowlers who could legitimately be classed as tail-enders. Robbie Hart kept wicket.
The other five players – Vettori, Scott Styris, Craig McMillan, Chris Cairns and Jacob Oram – all bowled to some extent or other and all finished their Test careers with batting averages in the thirties. The only problem with this particular 'nine batsmen and seven bowlers' recipe was that Vettori was the only spinner. And also the only left-armer.
The England recipe
The effectiveness of bits and pieces cricket is greatly affected not just by the quality of your bits but also by the variety of your pieces.
England's lengthy batting line-up still looks like insurance against fallibility throughout the order but their bowling attack is unarguably more threatening for the number of different prongs it boasts.
The first two Tests against Sri Lanka were fine examples.
Right-arm swing, Jimmy Anderson
Left-arm swing, Sam Curran
Right-arm finger spin, Moeen Ali
Left-arm finger spin, Jack Leach
Wrist spin, Adil Rashid
That's a lot of bases covered and we haven't even mentioned Ben Stokes and Joe Root, who in that attack were able to concentrate on subtly different approaches.
There will be different bowling permutations in different conditions, but it looks like the same principles will apply for the foreseeable future.
Steve Harmison talks about ensuring that every attack has all of the necessary components for success and normally this demands a bit of doubling up. The great Australia side that contained both Shane Warne and Glenn McGrath thrived because those bowlers could attack the batsmen, throttle the scoring rate and, in Warne's case, also conjure wickets out of nowhere with magic balls. Those guys did a lot of different jobs.
While it would of course be nice to have players with this breadth of bowling talent, England have no desperate need for them. The sheer number of bowlers at their disposal permits a narrower focus for each one.
Part-timer Root is very good against left-handers, for example, and in a seven-man attack that pretty much amounts to his entire role. Adil Rashid doesn't need to keep things tight; his job starts and ends at taking wickets when no-one else can. Sam Curran doesn't need to do old ball donkey work. In fact with six or seven bowlers, no-one really needs to do donkey work at all.
That last fact also gives rise to a certain freshness. Stokes took five wickets at 20.40 in the Sri Lanka series, but was only asked to bowl 31 overs in total. Each of those 31 overs was pretty full-on. (In one sense that's true of every Stokes over. What we mean here is that his body could for once meet his brain's relentlessly competitive standards.)
The flipside
CricViz are calling the fluid approach that is permitted and has been adopted by this line-up 'Total cricket' – everyone bats, everyone bowls, everyone adopts Moeen Ali-esque levels of flexibility (except for Root, whose infourtuation is indulged with a fixed batting position).
The downside is perhaps a lack of responsibility.
For the most part, liberating international cricketers from pressure is a productive thing to do. Moeen is a prime example. A marvellous batsman when picked as a bowler and a highly effective bowler when surrounded by other spinners or when asked to bat at the top of the order, he always seems to perform in his secondary discipline – whichever it happens to be – and frequently disappoints in his primary one.
A long batting order fractionally lifts the pressure on each individual. Whether or not it also reduces each player's desire to tough out challenging spells of bowling is up for debate.
A more clear-cut impact is in the bowling. With the exception of Jimmy Anderson and Stuart Broad, it's legitimate to ask whether any of England's current bowlers are high quality in a rounded sense. If they are ultra-specialists for an attack that accommodates – indeed comprises – such things, then surely there is some aspect of cricket to which they will be under-exposed.
If Sam Curran only ever gets to bowl with a swinging ball, will that one day come back to haunt England? If Adil Rashid is only ever deployed in wicket-taking cameos, will he ever learn to build pressure on an unresponsive pitch? If Ben Stokes only comes on fourth change, will his bowling slowly atrophy?
It's hard to say how much these things matter if the team can continue to field a broad and complementary attack, but one-dimensionality is not a virtue and it's hard to avoid a sense that each player's game and confidence must inevitably be built on shallower foundations.
Conclusion
England's approach is the one that makes best use of the resources currently available to them. That doesn't make it the future of cricket. It's just one approach of many with its own strengths and drawbacks.
The principles of five-day cricket remain the same. If you can score enough runs and find some way or other to dismiss different batsmen in different conditions, you will win plenty of matches.