2
minute read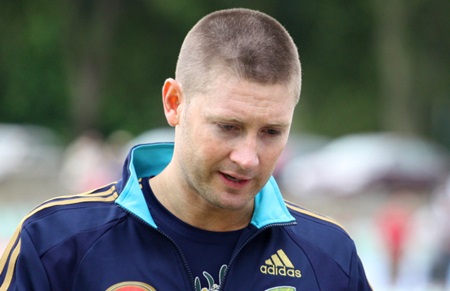 If there is one thing Australians love, it is to constantly, endlessly debate the exact whereabouts of 'the line' until all you can do is start trying to claw your own face off, shouting, "When will it end? When will it EVER END?!"
Last we knew, everything was fine because Tim Paine had revealed: "We know what's right and what's wrong, so it's pretty simple."
But Michael Clarke – in many ways the spiritual father of the line – does not think it's simple. Bobbing to the surface again like a greasy, buoyant turd, he fired off a whole series of nonsense quotes this week in a bid to make things less simple.
The thrust of Clarke's position is that the team needs to, "play tough Australian cricket." An expert on the unique characteristics of the Australian genome, he added: "Whether we like it or not, that's in our blood."
Clarke cited David Warner as an example. He said he always liked having him in the team because he was aggressive. He added: "In saying that, there was always a line. He knew that. We had a number of conversations one-on-one about that line he couldn't overstep."
(Clarke also said, "David Warner gives it to certain blokes on the field because he wants them to give it to him when he's batting. It's like a turn on" – which is pretty funny when you take it out of context.)
Clearly Clarke is essentially thrashing around in muddy waters, shouting, "Look at me! Look at me! I'm covered in mud."
Clarke's old friend Simon Katich spotted this and (correctly) pointed out: "Once again we find someone missing the point. What's been forgotten in all of this is we blatantly cheated."
Paine (who we now always think of as Mr Shake Hands Man because he's asked his team to respectfully shake hands with the opposition at the start of every series) responded to Clarke's comments by drawing a subtle distinction between 'trying to be liked' and 'acting like massive wankers'.
Alas, it was to no avail. All the latest round of Australian navel-gazing has achieved is that once again no-one knows where the damn line is (the slippery, weaselly bastard).
Summing up the confusion, Justin Langer said: "I'm not sure what people want from us. We can't confuse the messages. On the one hand, we're too aggressive and probably stepped over the line. Now we're getting called tame."
Dear Australia: THERE IS NO LINE. YOU'RE LOOKING FOR SOMETHING THAT DOESN'T EXIST. DIFFERENT PEOPLE HAVE DIFFERENT IDEAS ABOUT WHAT IS ACCEPTABLE – THAT'S THE PROBLEM.
(Also, as a quick steer, the sandpaper thing crossed pretty much everyone's line.)