2
minute read
There you go. We've nailed our colours to the mast and those assorted greys and beiges that you can see fluttering in the breeze indicate our lack of hatred for Kevin Peter Pietersen (yes, that's his real middle name).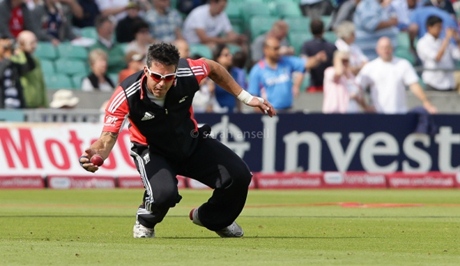 More than that, we don't quite get why so many people do hate him. He plays for England, averages 50, scores his runs with a clomping glee and is one of the few batsmen in the world who can explode from being smothered by the bowlers and instead make them run scared. He's amazing.
Maybe it's the caricature of him as an arrogant mercenary who's only interested in personal glory. That's a simplistic depiction.
The treachery of his switch of allegiance goes hand in hand with the iron-willed and successful pursuit of his ambitions; the arrogance is just his toeing the line of supreme, but largely justified, self confidence; and the attention-seeking switch hitting is just a pragmatic way of hitting gaps in the field. When the ball goes for four, the end justifies the means.
We've every reason to believe he'll be a decent England captain. Maybe even a great one. He has little experience, but his track record of achieving what he sets out to do is staggering.
He was a number eight in South African domestic cricket. He came to England, averaged 50, hit four hundreds in four innings on an England A tour to India, then hit three hundreds in five one-day innings against the country of his birth almost immediately after being promoted to the one-day side. If he thinks he can make England successful, it's worth giving him a go.
We thought that Pietersen should have been made captain when the one-day job was up for grabs. He's a thinking batsman who comes up with some unconventional solutions. Hopefully he'll adopt a similar approach with his captaincy.