2
minute read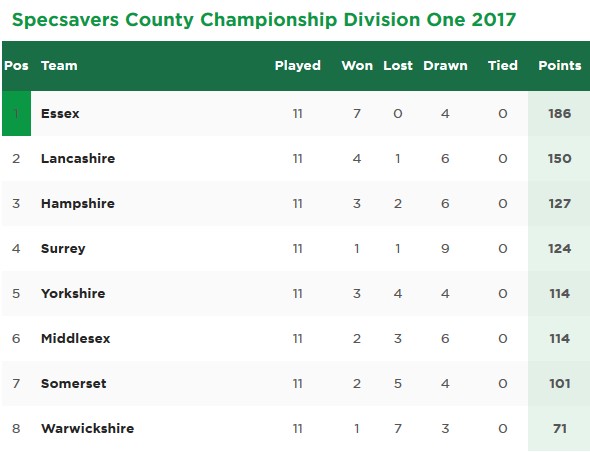 Nice bit of SEO there. Anyone searching "what in the name of all that is good and pure is going on in the County Championship" is now highly likely to end up on this page. In your face, Google algorithm. [Watches the ad revenue roll in.]
Yes, it's the time of year when we all return our gaze to the County Championship having been momentarily distracted by Test matches, holidays and the like. Many people will be finding themselves asking "so what the hell's going on then?"
Yes, what the hell IS going on?
There are three matches to go, including the ones currently underway.
Essex have a bit of a buffer over Lancashire in that they could go wholly pointless in one match and still remain top of the table. Hampshire are another good chunk further behind in third.
At the bum end of the table, Warwickshire haven't yet hit triple figures. Two teams will go down.
Is that table above accurate?
No. It's out of date. We think it's from just before the latest round of matches.
Actually, we screengrabbed it midway through the afternoon session. We don't imagine they'd have updated it with bonus points from the latest round of matches, but you never know.
Any big matches to watch out for?
Essex are currently playing Warwickshire in a head v bum match. Somerset are playing Lancashire in a similar sort of match that doesn't lend itself to anatomy in quite the same way.
Other than that, no match is obviously more important than any other, which actually means that most have something riding on them.
Any players to watch out for?
We went with these guys earlier in the season.
If we're talking about those who've helped their team to near the top of the table, little-known young bucks Alastair Cook and Shivnarine Chanderpaul have been making plenty of runs. (We presume Cook will play another couple of games for Essex.)
Bowling-wise, Jamie Porter and Simon Harmer – both of Essex – are the top wicket takers, while Ryan McLaren has been doing the heavy lifting for Lancashire.
Oh, and Neil Wagner's back is back for Essex, along with the rest of him.
Anything else?
No, not really.
So why did you go to the trouble of including the subheading?
Don't know.