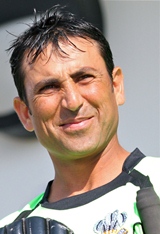 For a man with 21 Test hundreds and an average of over 50 who's also been involved in his fair share of drama, Younus Khan can be surprisingly low profile. That said, your singy, shouty 'look at me' types tend to lack inner steel. Younus is far too busy getting the job done to bother with fripperies like talking or showing any kind of emotion whatsoever.
People often talk about how much they like a certain cricketer 'because he always plays with a smile on his face'.
No. Wrong.
If you're supporting a team, it's actually very reassuring to see that somebody's taking the job really bloody seriously indeed. We don't want to see a batsman aiming a wild swish at a wide one and then grinning sheepishly. We want to see him leaving it alone while sporting a face like thunder. Younus Khan delivers in that regard.
He's also turned a potentially dull South African cakewalk into a Test match and for that he and Asad Shafiq should be thanked. At 33-4, it seemed like a simultaneously spectacular and yawnsome rehash of the first Test, in which Pakistan were bowled out for 49. Instead, we have a cricket match which will hold the interest for a good while yet. Their stand of 219 should also be viewed in light of the fact that when they came together, a repeat humiliation seemed not just likely, but probable.