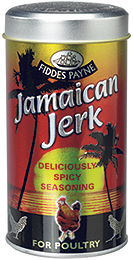 We just popped into our local Co-op. Two of the staff were looking at a new takeaway menu. One said: "It sounds nice, that chicken and chips."
We've got that menu. It waxes lyrical. It says: 'One portion of chicken and chips.'
Mmm. That does sound nice.
If we can be bothered, we're going to have jerk chicken tomorrow while watching day three. We always tell you to eat jerk chicken. You always ignore us. We're not letting that stop us from doing it again though. Our feelings about embracing each different cricket tour are quite strong.
The concept of the tour is what makes cricket what it is. Tours are what raise the sport above its closest challengers – the biathlon and boules. With a cricket tour you get weeks or even months to get to know opposition players and as long as England are away, you keep getting whiffs of an alien culture as well. It's ace.
Mostly it's just an excuse to eat curry or jerk chicken or whatever though.