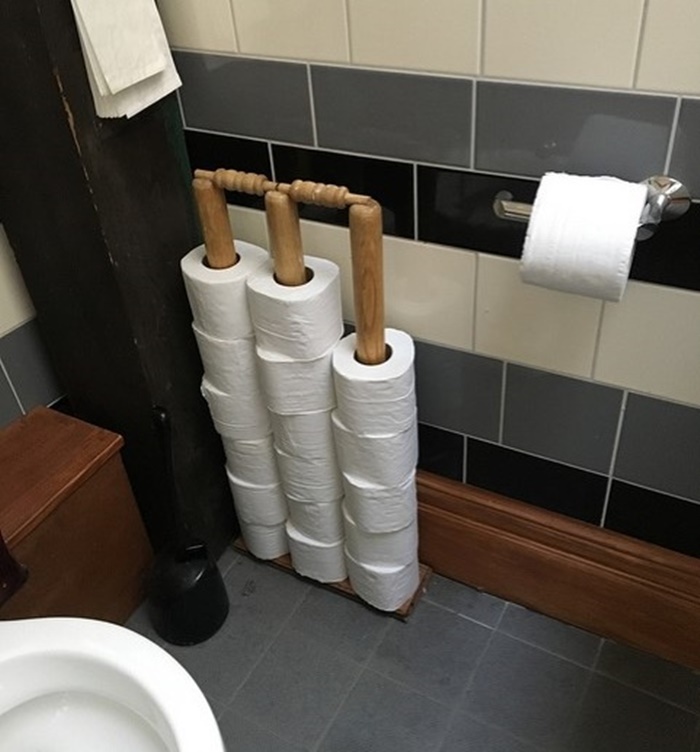 Send your pictures of cricket bats and other cricket stuff in unusual places to king@kingcricket.co.uk
Ged Ladd writes:
The Manchester Tennis and Racquet Club is dedicated to racket sports (real tennis, rackets and squash), plus eating and drinking by the looks of the web site. Nothing to do with cricket.
I have now visited that Salford establishment several times to play real tennis. I have also availed myself of the changing room toilet facilities on several occasions.
But on my most recent visit, for the first time, I needed to change the toilet roll. Upon so doing, I realised that the storage device for the spare rolls was also cricket equipment in an unusual place. This should amaze and amuse many King Cricket readers, who tend to be aficionados of such matters.
I did wonder whether this magnificent storage device also qualifies as a sort-of inverse variant of The Device, much as I similarly pondered when I discovered bats being used as devices in Kent.
In any case, this unusual use of stumps is, in more than one sense, potty.