Send us pictures of cricket bats or other cricket stuff in unusual places to king@kingcricket.co.uk.
Miriam writes:
Here is a cricket bat in some unusual places. Specifically, here is the cricket bat signed by the Sussex team that I won through King Cricket, from a lingerie website, around my house.
1. The cricket bat is enjoying a relaxing lie-down in my drinks cabinet.
It is being protected from marauding children by a barrier of small alcohol miniatures.
2. The cricket bat is, as befits a bat won from a lingerie website, in my underwear drawer.
It's in my "everyday" underwear draw, not my "special" underwear drawer. I am aware, by the way, that my sash window needs painting, but that's really a summer job. I've also been meaning to change the handles on the chest of drawers for, like, forever.
Typical, isn't it. You leave these things for ages and then it's only when someone asks for pictures of a cricket bat in an unusual place that you think about them again. And now I feel inadequate. Great. The bag is not made of a real leopard, by the way, girls, so please don't come round and throw paint at me. Unless, of course, you'd like to throw white paint on the window frame with a brush.
3. The cricket bat is now sitting up in my bed, as if it owns the place. It doesn't. I do. Well, the bank mainly does.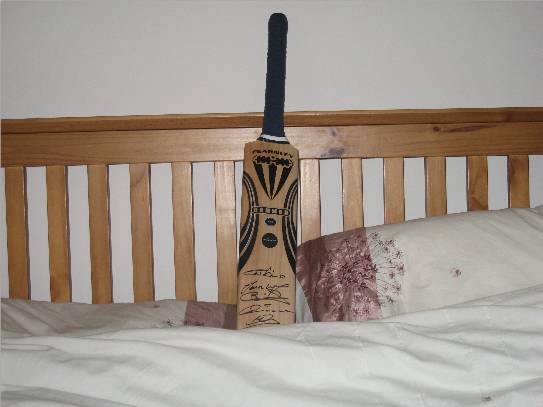 If I were a cruder person, I'd make a joke about that being the longest, thickest, hardest piece of wood that I've ever had between my sheets. Luckily, I'm not that person.