Sri Lanka
13
Today we're going to direct you towards two pieces of ours which appeared outside the kingdom.
First up, our latest King of Cricket is Murali. Don't worry, it ain't all numbers. It's about the joints, the graft and the batting really.
Secondly, last week's Cricinfo piece, entitled English cricket rocked by non-Cook related incident. As an added bonus, that one contains a little bit of Nick Knight.
Almost inevitably, Cook is in the news again today. Paul Downton has given another interview, which basically means Cook's relationship with the public has dropped another few notches through no fault of his own.
Downtown has an incredible knack for alienating people. When he speaks, what you're left with is a strong sense that someone has wagged their finger at you and told you they know best.
Apparently he sits in on selection meetings these days. He says he is happy with the selectors he employs (his words) and happy with the decision to continue with Cook as captain, but that the selectors will meet to discuss everything on Friday. Presumably they won't be jumping at the chance to make their boss unhappy.
Asked about Cook's form, Downton said: "Yes, he's in miserable form. But form can change. I'd suggest he's 'due' – wouldn't you?"
We've covered this before, haven't we?
Another highlight is: "He's the natural leader of that group of players."
A natural leader in the sense of being a great orator? A natural leader based on the fact he's getting great results? What is a natural leader? Is that how leaders are identified; by their nature? Do the ECB do a DNA test? What chromosomes are they looking for?
The ECB really are beyond parody now.
Downton finished by saying: "I want to enfranchise everybody and I want them to be part of what's happening in English cricket."
Remember kids, if you've been enfranchised by a stockbroker, you should inform a parent, teacher or policeman immediately. It's not your fault.
13 Appeals
23
Here's a joke for you: What do a 35-over a side game in Habantota and a 50-over match in New Zealand or Australia have in common?
Pretty funny, eh?
In the third match of this series, Sri Lanka were positively blown away by England's tactic of randomly selecting a load of seamers and sacrificing a decent top order batsman who isn't Alastair Cook. There was also a counterargument to our assertion that Alex Hales and Moeen Ali would constitute a great opening partnership when the two revealed a worrying inability to remain at opposite ends. Boundaries only please, lads.
And boundaries only for Jos Buttler as well. Joe Root's non-dismissal off a no-ball seemed to precipitate a fourvalanche from the softly spoken pseudo-wicketkeeper (who actually hasn't done too much wrong behind the stumps).
England's lower order sloggery has never really been the problem though. Getting into a position where sloggery can be executed has been the problem and you could argue that a 35-over game sees the removal of the 15-overs of nurdlesome proactivity during which England's batsmen traditionally like to perform seppuku.
23 Appeals
18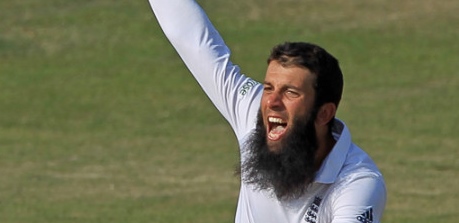 That's okay. That's what these tours are for. Moeen will have learnt from this. From now on, he'll know that 119 off 87 balls simply isn't enough and he'll instead score 180 off 110 balls or whatever.
Other than that, one of the great joys of the first one-day international between Sri Lanka and England was in seeing Alastair Cook being given out three times – at one point off two successive deliveries. Did England's mighty stuttering captain let this stop him? Did he heck. Well, okay, he let the third one stop him, but he'd already rollicked his way to 10 off 17 balls by then so it really didn't matter. That's really not a bad strike rate when you consider that three of those 17 deliveries were dismissals.
Ravi Bopara was the most economical bowler, so he was limited to just four overs. James Tredwell finished his spell with sixes and then outs – a pair of each. Harry Gurney bowled six wides. Sri Lanka also played.
18 Appeals
4
Can New Zealand do what Australia couldn't and give Pakistan a decent Test match? Brendon McCullum's already made a major contribution to his team's cause in the second Test by winning the toss.
We don't actually know whether McCullum went for heads or tails or whether he just passively watched the coin arc through the air after Misbah-ul-Haq had called. Whatever he did, all those hours of coin-tossing practice have been entirely vindicated and New Zealand are currently 145-1. (Update: Now they're 159-2 and that vindication is a little less apparent).
Perhaps concerned that their attack was becoming too experienced, Pakistan have dropped 'Imran Khan 2: Not The Same Khan' and given a second Test to Ehsan Adil.
Captain Face-Save
Shivnarine Chanderpaul is master of the forlorn rearguard. He can't avert defeat, but by God he can postpone its arrival for a bit. Misbah-ul-Haq is another practitioner. For a while, he cornered the market on the captaincy version of this innings – particularly in one-day cricket.
There is no innings so depressing as the captain's face-saving one-day knock. As the run-rate rises and the chances of victory recede, everyone still has to play out the overs, even though one team can't win or play for a draw. What we are seeing is one man trying to lead, only being as pretty much everyone else is out, there isn't really anyone to follow.
Angelo Mathews seems to be finding himself in this sort of position increasingly often. The one-day series against India probably isn't representative in that Sri Lanka weren't prepared and didn't really field their full strength side. Nevertheless, in five matches Mathews delivered 92 not out after arriving with the score reading 64-3; 75 after arriving at 42-3; and 139 not out after arriving at 73-3. Sri Lanka lost all three matches and the other two in the series as well.
Sri Lanka have a way of getting themselves in order for big tournaments, so this might be a blip. But it might also be a window into a future without Mahela Jayawardene and Kumar Sangakkara.
4 Appeals
17
Younus Khan's just made his third Test hundred on the bounce. We mentioned that he was underrated after the first one. Let's revisit that.
We all know Younus averages some way north of 50 and that he's now made Test hundreds against every nation, but let's dig a little deeper. Last time we mentioned that only 19 of his 93 Tests have been played truly at home and that hints at what's so great about him. He's adaptable.
The first of this trio of hundreds saw him construct non-scoring foundations for his innings. Since then, he's become ever-more expansive. This third hundred came off 128 balls.
But it's conditions as well. Not only has Younus scored a hundred against every Test-playing nation, he's also scored one in every country bar Australia, where he's only played three matches. Only in South Africa and the West Indies does he average less than 40 and only in the Windies does he average less than 30. There are always gaps and that's some CV.
Attack!
Midway through our Cricinfo piece about how Pakistan and Australia have prepared for this Test, we poked fun at Australia's tendency to believe that their success is directly linked to how attacking they are. It was therefore quite amusing to see that they'd tweaked their team and brought Glenn Maxwell in to bat at number three.
Maybe it'll work.
Murali's balls
YouTube can make wasters of us all, but every now and again a long shift is justified when you catch a glimpse of what must rank as being one of the all-time great cricket banners.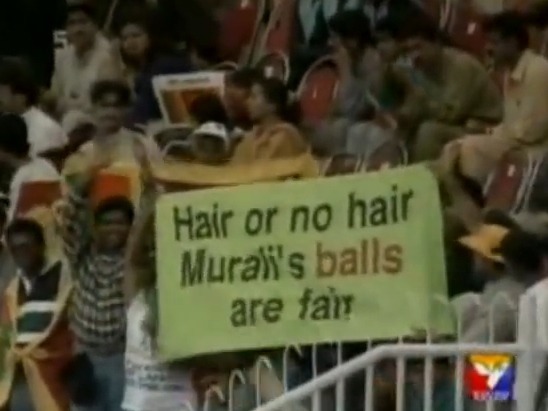 17 Appeals
37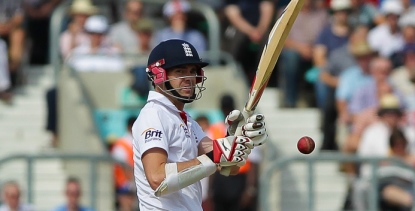 The final pole was taken with just a cherry to spare. But just as a snatched draw wouldn't have erased England's shoddy cricket from the previous day, so falling short shouldn't negate the efforts of Moeen Ali and Jimmy Anderson. Jimmy was basically in tears when Mike Atherton tried to interview him afterwards, but he can comfort himself with the fact that most of us will remember his efforts just as fondly as if he'd seen the job out. Sometimes it's about how you lose.
Jimmy played 55 balls in making the best duck we've ever seen. Moeen Ali played 281 and hit a hundred in the process. As first Test hundreds go, it was just about as good as you get.
Moeen batted proactively to lubricate a partnership with Joe Root that would otherwise have seized up, he marshalled the tail and he did it all with such profound unarsedness that you can't imagine he's ever been nervous about a single thing in his entire life. To take England from where they were in the morning to within two balls of a draw was immense. If you were wondering how he might respond to pressure, this provided a pretty clear answer.
The finish
It's hugely annoying when people describe cricket in football terms, but in this instance it's instructive (and also pertinent being as the action played out concurrently with a deathly dull World Cup match).
In football terms, the situation was this. There were going to be 60 more shots on your team's goal, they had an outfielder between the sticks and if they conceded even once, it was 10 days' play and 10 days' efforts flushed down the khazi.
That puts the tension in perspective. In short, it simply could not have come about in 'the beautiful game'. You might get 10 minutes of tension in football. In cricket, you can get an hour or more. As the minutes tick by, it becomes more and more intense until you start wondering whether it's even safe to watch; whether there might actually be a physical risk to subjecting yourself to this.
Your hopes could be dashed by any delivery and being as number 11 will always be at the crease in these situations, the fragility of it all is even more pronounced. There are no short cuts to these sorts of finishes and that is precisely why Test cricket can never die.
37 Appeals
31
Just because it's only a two-Test series, it doesn't mean you're playing Bangladesh. This Sri Lanka side is a good one. If anything, it's their achievements that are being devalued by the quality of the opposition. But they can only beat what's put in front of them.
In this Test, it's Angelo Mathews' hundred that most stands out. Even when you're only up against an ever-changing cast of toothless fast-medium bowlers, batting with the tail is difficult. It's an amorphous puzzle where your goal oscillates between singles and boundaries and the field waxes and wanes constantly.
Working out what to do is exhausting if you're in this situation for even a handful of overs. Angelo Mathews took Sri Lanka from 277-7 to 437-9. If that's not enough, consider that up until now, Sri Lanka's tail has been pretty damn wafty and ineffectual.
It was a titanic achievement. Mathews got the better of England for so long and so profoundly that they were beaten in ways we couldn't even see until they came out to bat. While he was at the crease, we thought he was merely skinning the home team alive. Not so. It turned out the skinning had been carried out one-handed. Out of sight, his other hand had been violently whisking inside English heads, whipping up a veritable brain meringue.
"Mmm, that looks delicious," said his bowlers.
And verily, they tucked in.
31 Appeals
17
Our worst nightmare was probably the one where we had toothache and when the tooth came out, it turned out to be a kind of keystone for our entire skull. With a groaning, creaking sound akin to falling timber, our entire head split in two – ONLY WE DIDN'T WAKE UP.
Instead, we wandered around like that, noggin cleft in twain. We would occasionally reach up and run our finger across the shards of fractured skull, nervous that we might inadvertently gouge part of our own brain.
Today's play has been worse than that.
It's been worse than that because it's been real. Ever-changing faces bowling the same fast-medium to partnerships that just go on and on and on. We've been here before – a long, long time ago – and we hoped never to return. Can you have endless permutations of the same thing? That's what it's been. This is why you should always play a spinner.
You could argue that England are playing a spinner, but unless the captain agrees with you, it's a moot point. Alastair Cook was the very last person at Headingley to feel like maybe it was worth giving Moeen Ali a bowl. Apparently, he had a better plan, which was to just keep on persevering with the same old thing in the hope that finally, one day, something might change.
17 Appeals
19
That's a reference to something Shane Warne said late on day five.
"59 cherries left. Four poles to get."
Okay, you're Australian, we get it. Just speak normally, okay.
The cherry shortfall
Following the nine wickets down draw between England and Sri Lanka, it's hard to avoid pointing to the overs lost due to slow over rates. We have two points to make about that.
Firstly, an over in the middle doesn't exactly equate to an extra over at the end. Sometimes it's the escalating tension that comes with the countdown that leads to mistakes. You still only get the same number of closing overs. It's the flat, lifeless ones England could have had more of.
Our second point is that the flat, lifeless ones might have been enough. Shitloads of overs were lost in this Test. Okay, we just said that earlier overs are perhaps less likely to result in wickets – but not by that much. Another 10 or 15 overs is a hell of a number when you finish one wicket shy of victory.
Plus there was the declaration thing.
The pole shortfall
This was a very good draw in that there were a couple of chances in the final over, but we'd have to say it fell down in one key respect. If you want real tension, it needs to be protracted.
That's what Test cricket can give you – the one-ball-away final hour with two incompetent dingbatsmen at the crease, edging and missing and cowering and surviving. This wasn't quite like that in that the action came in an accelerating rush towards the end. It was exciting in a different way, but it didn't really wring your innards like the very best finishes can.
Great draw though. In no other sport does that make sense.
Cook's exciting field settings
We were going to give Alastair Cook a bit of credit for some nicely creative field settings on the final day. It's easier to dick about when you've a stack of runs in the bank, but even so there was some real weirdness going on and it was most welcome. Sadly, he revealed in his post-match interview that they were all Jimmy's doing.
Anderson of course cannot become England captain on account of his being a Northern bowler.
19 Appeals
17
We spend about 40 per cent of our waking hours trying to work out which attributes we'd include were we to develop a stats-based cricket management computer game. For batsmen, there'd be things like patience and shot selection; for bowlers, there'd be fitness and accuracy. We'd also include 'unarsedness'.
The key passage of play today was the partnership between Gary Ballance and Chris Jordan. One's a debutant, the other's a two-Test veteran and yet both seemed entirely unarsed by England's eye-rollworthy position.
It wasn't that the home team were throwing it away. They were just making a very poor fist of things. In fact it wasn't even a fist. It was more like a limp claw. They seemed to be making a very concerted effort to entirely undo the few repairs they'd made during the first innings, during which the middle order had managed to emit a faint whiff of solidity.
Imagine Gary Ballance had scored 4 instead of 104 and that Chris Jordan had made 5 instead of 35 and now look at the scorecard again. That would have been a fairly normal outcome by recent standards and we probably wouldn't have judged that pair too harshly either. The cricket watching public would have pointed their vast collective finger at Cook and Bell instead.
Ballance in particular has brought us back to a world where it's not so ludicrous to assume that at least one of the batsmen might make a few runs in any given innings. He achieved this, at least in part, through having a very high unarsedness rating.
17 Appeals