Sri Lanka
19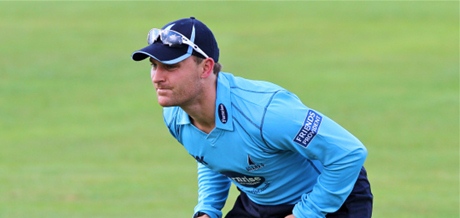 It's a week in which teams have been relying on their big name, 30-something batsmen. This isn't a coincidence. That's just the way Test cricket works.
Kumar Sangakkara has indulged in some average bolsteration by hitting 424 runs in the second Test against Bangladesh. For their part, Bangladesh managed two runs more than that in their first innings, which isn't a bad effort.
In New Zealand, Brendon McCullum made 224 against India, who are now 130-4 in reply. India of course tour England in the summer and after seeing real fight from their batsmen in South Africa, we think they'll provide stern opposition. Then again, you wonder who wouldn't fancy their chances of steamrollering England at the minute. No-one even knows who plays for them any more. Cook, Bell, Broad, Anderson…
India's pace bowling is still pretty wonky, but New Zealand's is looking stronger these days. At the time of writing, Trent Boult had 74 Test wickets at 26.09 and rarely seems to let them down, home or away, while Tim Southee's passed 100 wickets by the age of 25. Neil Wagner also bowls for New Zealand.
19 Appeals
14
Okay, let's do this. Let's write a 200-word article in which we somehow find a new way of emphasising how wonderful the third Test match between Pakistan and Sri Lanka was for readers who already know precisely how wonderful it was and who probably followed the match much more closely than we did anyway.
We'll also shoe-horn in a hilarious joke at our own expense which somehow makes a wider point about cricket with additional implications for wider society. We'll do this off the top of our head during a break at work while trying to block out the world's worst radio station. The first comment will then relate to why we haven't yet covered some earth-shattering news which one of Cricinfo's billion writers has broken during a live transcription of a Mashrafe Mortaza press conference which was supposed to be about the chances of Khulna Division in next year's whatever-the-hell-Bangladesh's-first-class-competition-is-called. The resultant masterpiece – which will obviously be nothing of the sort – will then sit in prime position on a website of almost no significance for a matter of hours before the moron of a writer feels he needs to add something 'fresh', thus pushing the article further down the page, where it will never again be seen by a human.
Alternatively, we could have some sort of tetchy meltdown and one of you can point out that we've actually written 236 words, plus a rubbish headline.
14 Appeals
33
And by some margin.
Even India's bowling's doing the job at the minute. They usually win one-dayers despite holding some sort of festival of pie-chucking when they're in the field, so now they're all but unbeatable.
As for the batting, Rohit Sharma's become unexpectedly efficient, while Shikhar Dhawan and his moustache remain the players of the tournament. Kohli, Karthik and Dhoni are barely needed.
This side actually looks miles better than the one that won the World Cup. They fully deserve to share the Champions Trophy following Sunday's rain abandonment.
33 Appeals
16
Remember Ajantha Mendis? That's kind of died down a bit, hasn't it? He isn't even in the Sri Lanka squad.
There seems to be an assumption that India will win the second semi-final. They've been playing very well and they look the stronger team with a greater number of high quality batsmen, but Sri Lanka are not to be underestimated. For many years now it's felt like the end of a Sri Lankan era, but somehow it's never quite happened. Their middle-aged core has not yet spoilt.
That said, Sri Lanka's main bowling weapon is Lasith Malinga and if there's one nation that is entirely unarsed by Malinga, it's India. Not only do they know him from the near-daily one-day internationals these two sides for some reason choose to play, but he's also been one of the central figures in each season of the IPL.
Which side will get to sit inside playing darts and studying Duckworth-Lewis charts on Sunday before finally accepting that there's going to be no play and getting stuck into the pints of mild instead? In just a few short hours, the answer will be revealed.
16 Appeals
37
It's funny how you can rely on the guys who've played 300-and-odd one-day internationals in these major tournaments. And by 'funny' we of course mean 'predictable'.
Mahela Jayawardene has played so many one-dayers that his average (33.40) is meaningless. What you actually need to do is split his career into several manageable sized careers in order to be able to compare him to others. His efforts span so many rule changes and so many different Jayawardenes, it's pointless to try and comprehend his efforts as one whole.
Australia, by way of contrast, are best evaluated cumulatively, as if all eleven components comprised just one all-rounder. Looked upon that way, they're a decent player – not earth-shattering, but pretty consistent.
37 Appeals
7
That Kumar Sangakkara, eh? He can bat. There's a decent chance he's set things up for the perfect England home tournament exit as well where they are ejected after one loss and a bit of rain without having done too much wrong. It's the way it should be: incomplete and entirely unsatisfactory.
When England reverse-swung their way to victory against Australia, the decision to leave out Steven Finn looked like something of a masterstroke. However, with reverse swing conspicuous by its absence, continuing to leave him out looks more like a novicestroke. His form may have been patchy recently, but Finn has been England's best one-day bowler for a year or more. It does feel a bit like memories have become spectacularly short.
In rather more cheering news, today we learnt that Cricket Australia employs a 'Code of Behaviour commissioner'. We'd love to see a complete list of job titles within that organisation.
7 Appeals
16
But not by a huge amount. Chasing 139 to win, you'd hope to get there without losing nine wickets. Then again, they didn't lose ten, so what's the problem?
A really bad run chase is a wonderful thing. A big run chase is faintly absorbing, but for real tension you need the looming spectre of a right royal balls-up. We're not sure as to the exact visual appearance of such a spectre, but we're pretty sure it would make a spooky noise and exude a bad smell.
When the top scorer for the winning team was batting at number eight, you know it was a good match. Furthermore, New Zealand scored eight in leg byes while Sri Lanka scored one. The significance of that should also be considered a badge of quality.
16 Appeals
11
Australians aren't always particularly polite about the standard of the opposition. In a way, this is okay, because they're equally happy to wheel out brutal opinions about their own team when they don't do well.
On the other hand, it does mean that the rest of us can portray dismissive comments about the opposition as being extraordinarily hubristic. Take this comment from former fast bowler, Rodney Hogg, for example.
Sri Lanka have the worst new ball attack that has landed on our shores ever.

— Rodney Hogg (@RMHogg) December 11, 2012
And then scrutinise this scorecard.
That would make Australia's one-day top order what, exactly?
11 Appeals
6
We'll be honest. Sri Lanka were steady-for-one when we got in the shower. We thought we'd timed it well. We hadn't.
The World Twenty20 final was an odd one. Sri Lankan run-scoring was stymied and they appeared to be waiting for a particular bowler to hit. He never turned up, so Kumar Sangakkara opted to have a go at Sam One, Samuel Badree. When that failed, Sri Lanka suddenly found that they had to have a go at everyone. That failed too.
Compare that to the West Indies' innings. They reached the frankly outrageous score of 32-2 after 10 overs, at which point Dwayne Bravo hit a six. "Oh yeah, sixes," said Sam Two, Marlon Samuels, before wading into Lasith Malinga as if he were a particularly inviting jacuzzi.
This was where the match was won. Sri Lanka ran out of bowlers to target and imploded. West Indies also ran out of bowlers to target but somehow eviscerated the man widely considered to be the finest Twenty20 fast bowler around.
Malinga's second over featured three sixes and went for 21 runs. In all, he conceded 54 off four overs, including 39 off the 11 balls he delivered to Marlon Samuels. Maybe the Jamaican has his bowling machine set at the wrong height or something.
It's almost impossible to impress people as a batsman these days. The term 'Twenty20 specialist' is undoubtedly pejorative, but there's also a gap on your CV if you've only had Test success. It appears that the second coming of Marlon Samuels transcends formats. We already liked him, but cross-format success really is to be admired.
We've plenty of admiration for Sam Three, as well – Darren Sammy. He's the happiest man alive when he loses, so now that he's captain of a World Twenty20 winning side we should probably find some way of tapping him to extract the joy. He can spare some. He can spare plenty.
6 Appeals
32
Historically, a drawn Test series in Sri Lanka is a pretty good result for England. Set against that is the fact that Muttiah Muralitharan doesn't play any more. Sri Lanka's bowlers are a bit middling. Should England have done better?
Well we're pretty happy with a draw, particularly after watching three Tests against Pakistan in which we're pretty certain England never actually batted – we can't remember any batsmen being at the crease, anyway. Also, at the start of the winter, we pointed out that England's batsmen were basically untested against spin. As we suspected, most of them turned out to be pretty crap, so a 1-1 draw feels a bit of a result.
So yeah, England could have done better, but it would have been pretty special if they'd managed it. Life isn't all fillet steak and Chianti Classico. Sometimes you have to acknowledge that you're pretty lucky that you don't still live in a world where the only sandwich fillings are ham or egg.
What are we blathering about?
England's bowling, of course. England's bowling is a sandwich menu from heaven compared to years gone by. It wasn't so many years ago that Darren Gough would get injured and you'd have to have potted beef on your sarnie. No-one was happy about that and spin bowling only got up to 'fish paste on Mighty White' standard at best.
These days opening bowlers get injured and they're replaced with prosciutto and brie. A quality spinner gets dropped and some sort of delightfully spiced prawn concoction turns up on toasted ciabatta. It's unparalleled luxury. We're so spoilt.
Basically, back in the day, England's batsmen AND bowlers would have been gash. At least they're half a side these days.
32 Appeals